Okay, before you guys get all worried that my blog is turning into a food blog, have no fear. It's not. I know, I know…two recipes in one week is pushin' it. It's just that I couldn't resist sharing this one with you. Plus, we don't have a lot going on currently with the house. Well we do…but nothing worth sharing at this point. But there's some fun stuff ahead, for sure!
So if you were thinking about making chocolate chip cookies this weekend, scrap that idea and make this instead.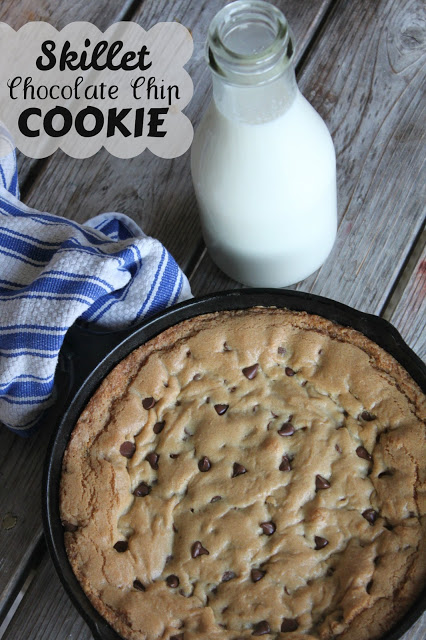 It's giant, it's chocolately, and it's in a skillet–what's not to love? Oh and it's pretty dang amazing, too. See that outer layer there? Yeah, it's crispy. And the middle is soft and gooey. And that, my friends, is a winning combination. I made this for Mitch and some of his friends the other night. I made it earlier in the day, then just stuck it back in the oven for about 10 minutes to warm it up right before the guys came over. Serve it with some vanilla ice cream. You can't go wrong.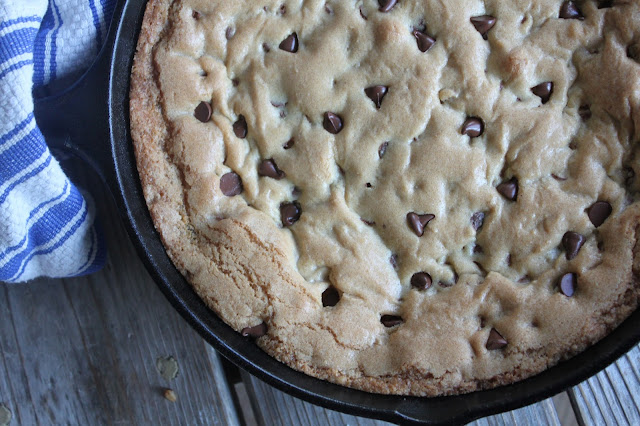 Skillet Chocolate Chip Cookie
Ingredients
9 Tbsp. butter, softened, divided
1/2 cup granulated sugar
1/2 packed light brown sugar
1 large egg
2 tsp. vanilla extract
1 1/4 cups all-purpose flour
1/2 tsp. baking soda
1/2 salt
1 cup semi-sweet chocolate chips
Directions
Preheat oven to 350 and grease the bottom and sides of a 9-inch cast-iron skillet with 1 tablespoon of butter. (it will look like a lot of butter, but grease that puppy up!)
Add the remaining 8 tablespoons of butter and the sugars to the bowl of a stand mixer and beat until light and fluffy. Add the egg and vanilla, beating until well combined.
Add the flour, baking soda, and salt to a large bowl and mix to combine. Add the dry ingredients to the wet ingredients, mixing on low. Add the chocolate chips. Press the cookie dough into the prepared skillet (I threw a handful of chips on top too) and bake for 20-25 minutes, until the edges are crisp and the cookie is golden and baked through.
Serves 6-8