So this is a little snippet of what I did this weekend.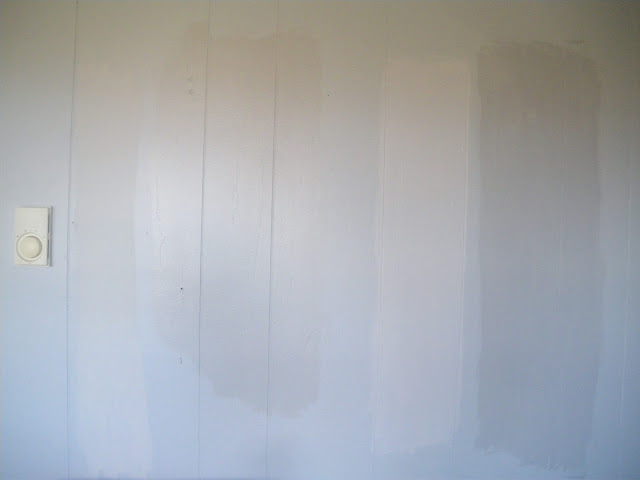 I picked out several samples of paint colors. I know, you can hardly tell any difference. There's four different colors up there. See 'em? The first one is a Benjamin Moore paint (that you can barely see) and the next three are from Lowe's. I'm trying to find that perfect gray: not too dark, not too blue, not too dreary, something very light and subtle. I love a barely-there color that only pops next to white trim. You know what I mean? I've done the whole color thing. Believe me when I say that–my living room used to be red, kitchen still is yellow, I had a bright green bathroom at one point, and Ryder's room is a periwinkle blue. Oh and I almost forgot our Flyers orange basement (that one was all Mitch). Needless to say, I'm done with the crazy color phase. Give me calming, soothing colors please. So anyway, these are the contenders. I have some more samples that I could still get if I'm not totally sold on any of these. I'm leaning toward the first one. What do you think? Keep in mind this is what we will be painting the living room, kitchen, hallway, and the new construction part (dining & mudroom).
Also, I must tell you about my latest find at GW. Let me preface this part by saying–there are times in your life when you find a treasure amongst the junk that makes your heart leap with pure ecstasy when you realize what you've just stumbled upon. Example: several years ago I was at an auction and spotted a rare Fire King jadeite skillet. I couldn't believe my eyes. I waited around all day to buy that puppy and add it to my FK collection. (What's so special about this particular piece is the two spouts. FK made many one spout skillets, but not so many two spouters.) It was totally worth the wait and I still treasure it today as one of my greatest finds.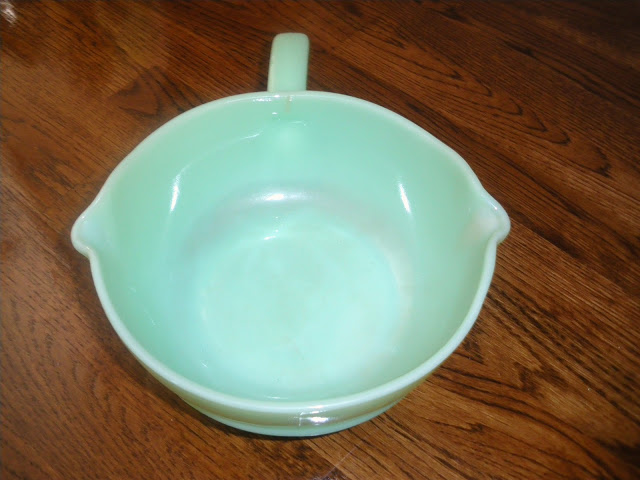 Well those times are few and far between. Although, I must admit, I do score on some sweet deals more frequently than the average Joe. And that's because #1: I hit up GW and thrift stores on a pretty regular basis and #2: I know what the good stuff is. Anyway, getting on with the story. So I walk into my local GW and the first place I usually start looking is in the linen section. I have a thing for linens, especially vintage ones. Whether they be tablecloths, curtains, blankets, even pillowcases, I always check 'em out. You never know what you're going to find. Also I'm a huge fan of cotton bedding. None of this synthetic crap for me. Give me cotton, or give me death! Okay, maybe I'm not that fanatical but I am pretty sure Patrick Henry just rolled over in his grave. So anyway, I'm perusing the blanket section and found one that just stood out to me.  I loved the color and it felt so incredibly soft. I knew it was a well made blanket. Found the tag: Ralph Lauren Home. Score baby. And it just happened to be a king size and it was only $6.50. First of all–anything Ralph Lauren is awesome. I don't care if they're undies–they're quality undies. And secondly, this was a Ralph Lauren blanket for cryin' out loud! I was so excited. I snatched up that puppy while suppressing a "YEAH BABY!" under my breath. I've been wanting another blanket to add to our current bedding collection anyway. Perfection. And since I always check prices after I purchase something, this is what I found.
My blanket (this one's in white) is a 600-thread count (no wonder it's so stinkin' soft!) sateen quilt that retails for $310. So now you understand why I get excited over these things, right? Love it. Here are some pictures of our bed with the new quilt on it. Some day I'll share with you all of my blankets' stories since they all have one. (I know–you can't wait, right?)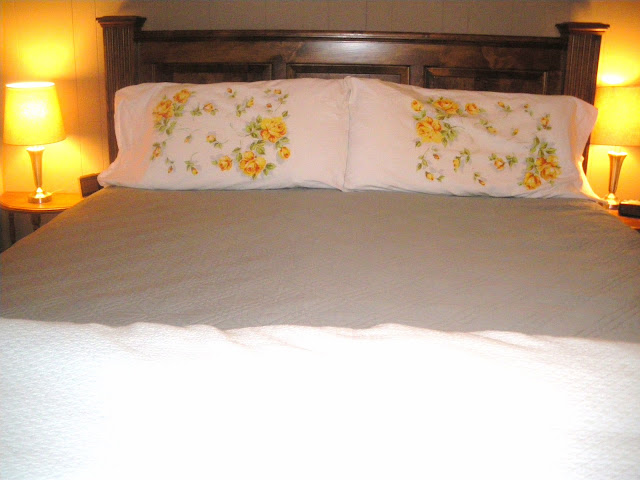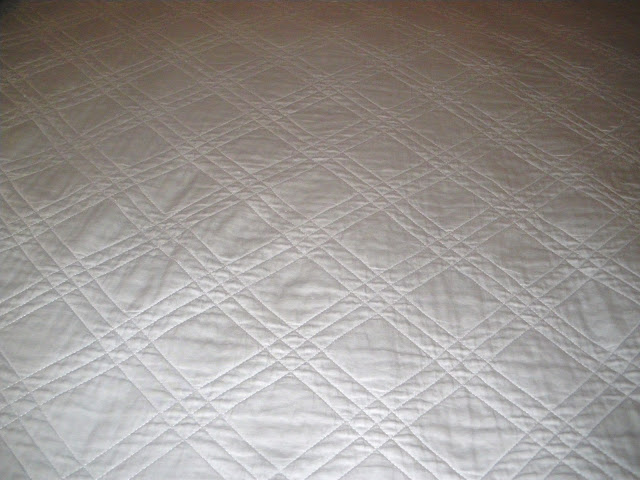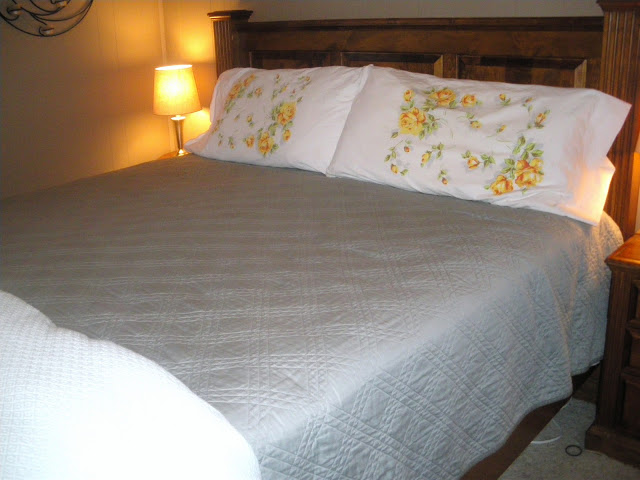 Oh and the other thing I bought at GW that day: this polyester dress. Wait…what was I saying about synthetic material? I forget. Anyway, it's a vintage maxi dress. Straight from the '70s, baby. Can't wait to show off my pregnant belly in this fun getup. Call me crazy, but I love it. And I betcha I won't have to worry about someone else having on the same dress as me! Fun times.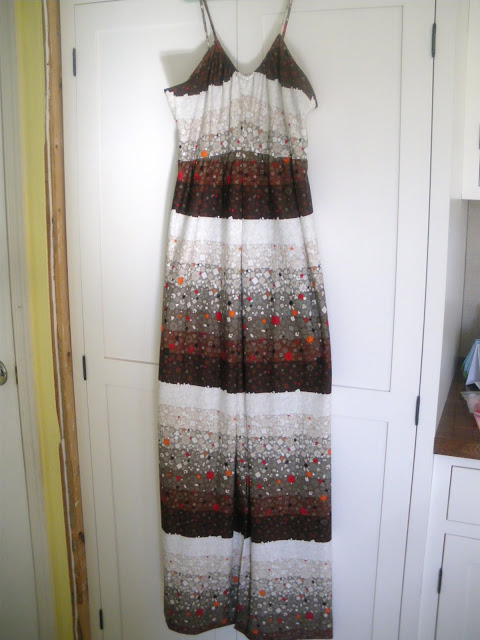 So there ya have it. Another good day at Goodwill. Did you find any amazing deals this weekend? I'd love to hear all about it!