I noticed the other day when looking through my house tour, I never officially revealed our dining room. If you've been following MLST for a little while, you've probably seen lots of dining room pictures, primarily from the DIY projects that were completed in that room. But I thought I may as well show you guys everything at once. So here we go–our dining room.
When we first decided to stay and renovate our little 2 bedroom rancher, we wanted to make smart use of the space we were renovating (which used to be our two-car garage), and try to get as many "wants" off our list as possible. A dining room (or area) was one of those things. And because this garage space would open right up to the kitchen, the layout worked perfectly.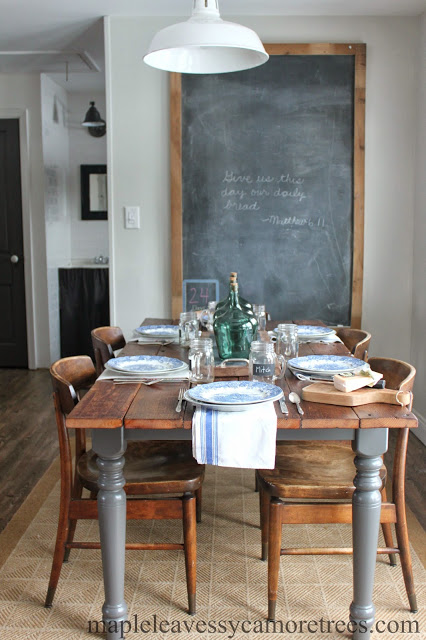 The
 barnwood table
 and chalkboard are two DIY projects that we're really proud of and that really make the space.
Here's how the dining area opens right up to the kitchen. Do you see that beam running across the width of the space there? That's where our wall used to be. There used to be a door about where I'm standing that took you out to the garage. We added the beam for visual interest. It also solved a problem for us–the ceiling doesn't match up (kitchen ceiling is a bit thicker, since there was drywall then ceiling tiles on top). So by adding the beam, you can't tell that the ceilings are uneven. Plus, it just looks cool, right? It's an old barn beam we bought off a Mennonite farmer.
I love all the natural light that pours into our home during the day. It really is glorious!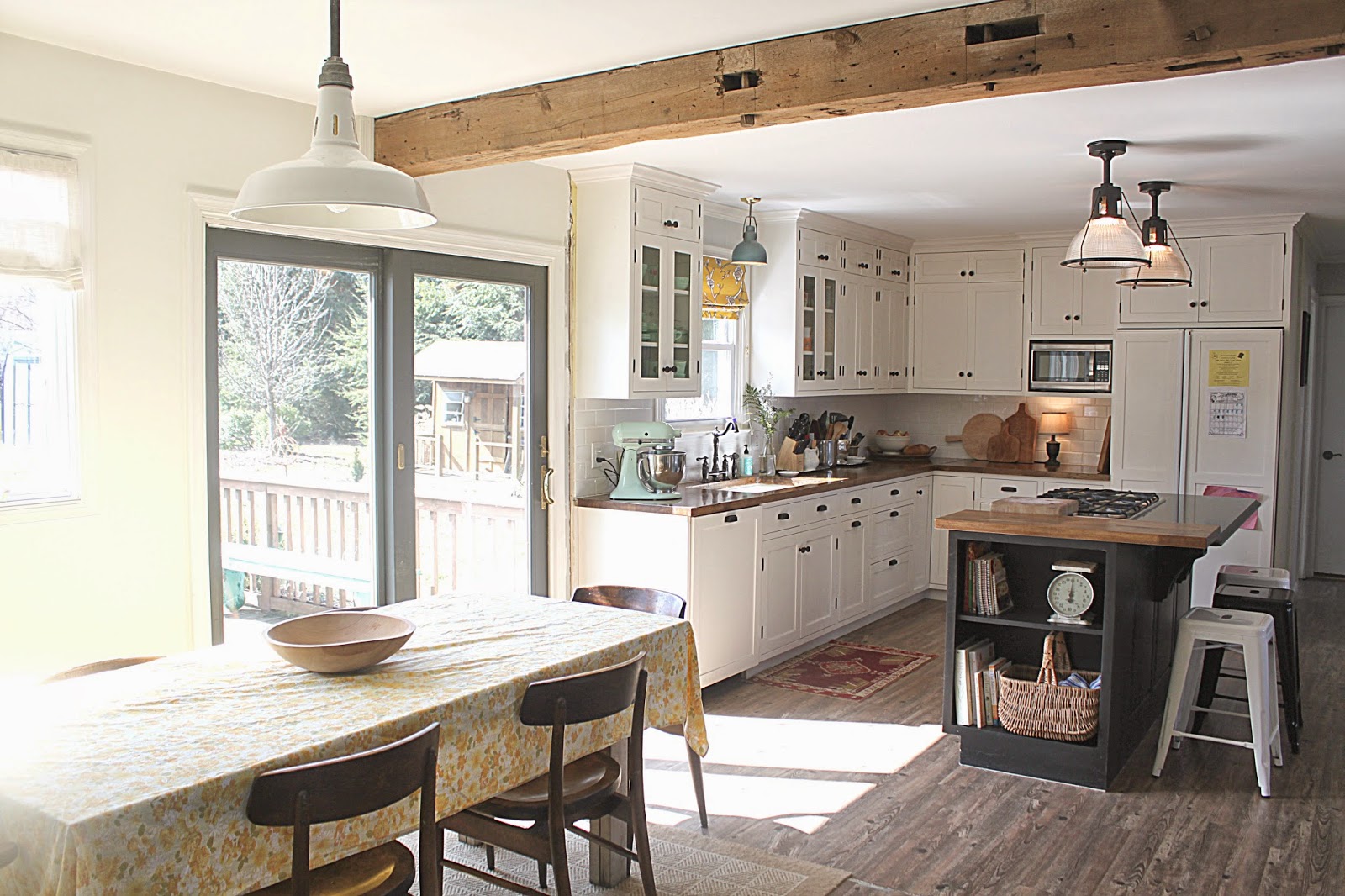 The only other piece of furniture in this area is this china cabinet or hutch. Even before we planned the layout of our dining room, I knew I wanted this hutch in here. We bought the hutch off Craigslist (I think this was our first ever CL purchase) and it sat in our garage for a while. When we planned the layout, it was planned around this piece. This wall was specifically built for this hutch. It also underwent quite the transformation (which I'll show you later this week).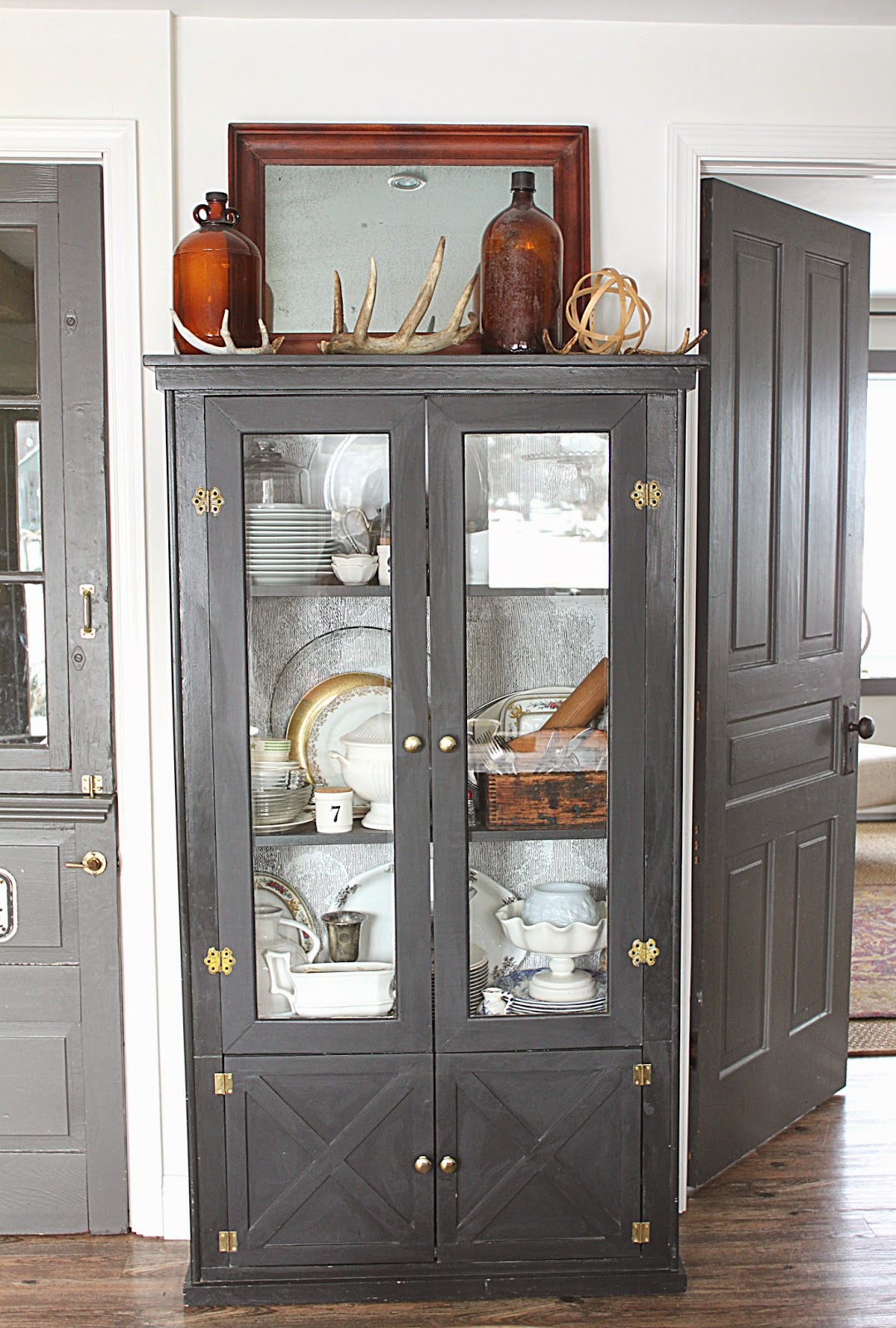 It's a great place to display my collections. I love decorating the top with seasonal items, all grounded by that antique mirror I picked up a while ago. And of course antlers. You can never have too many of those!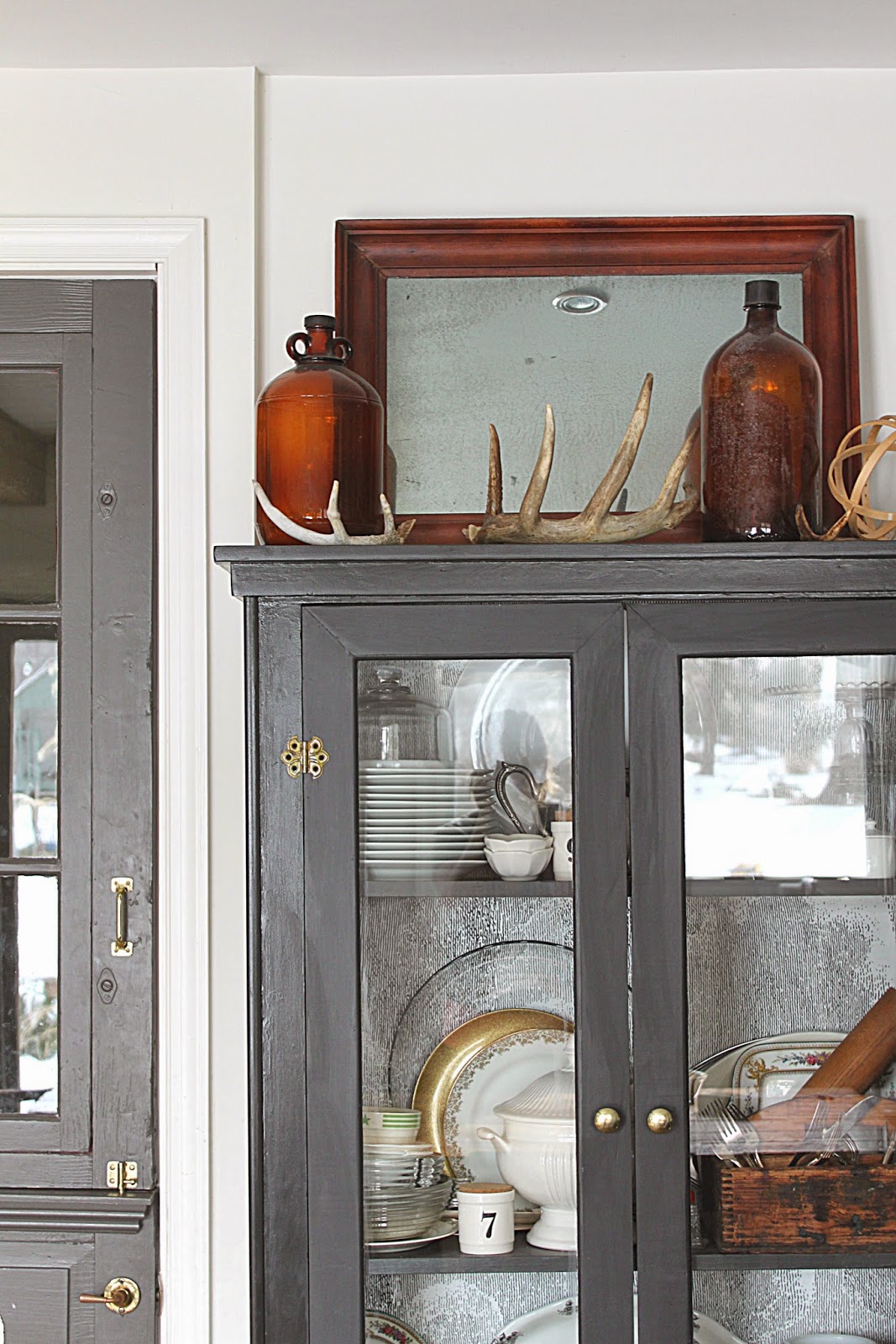 And inside it holds a lot of treasures, including some antique ironstone I like to collect.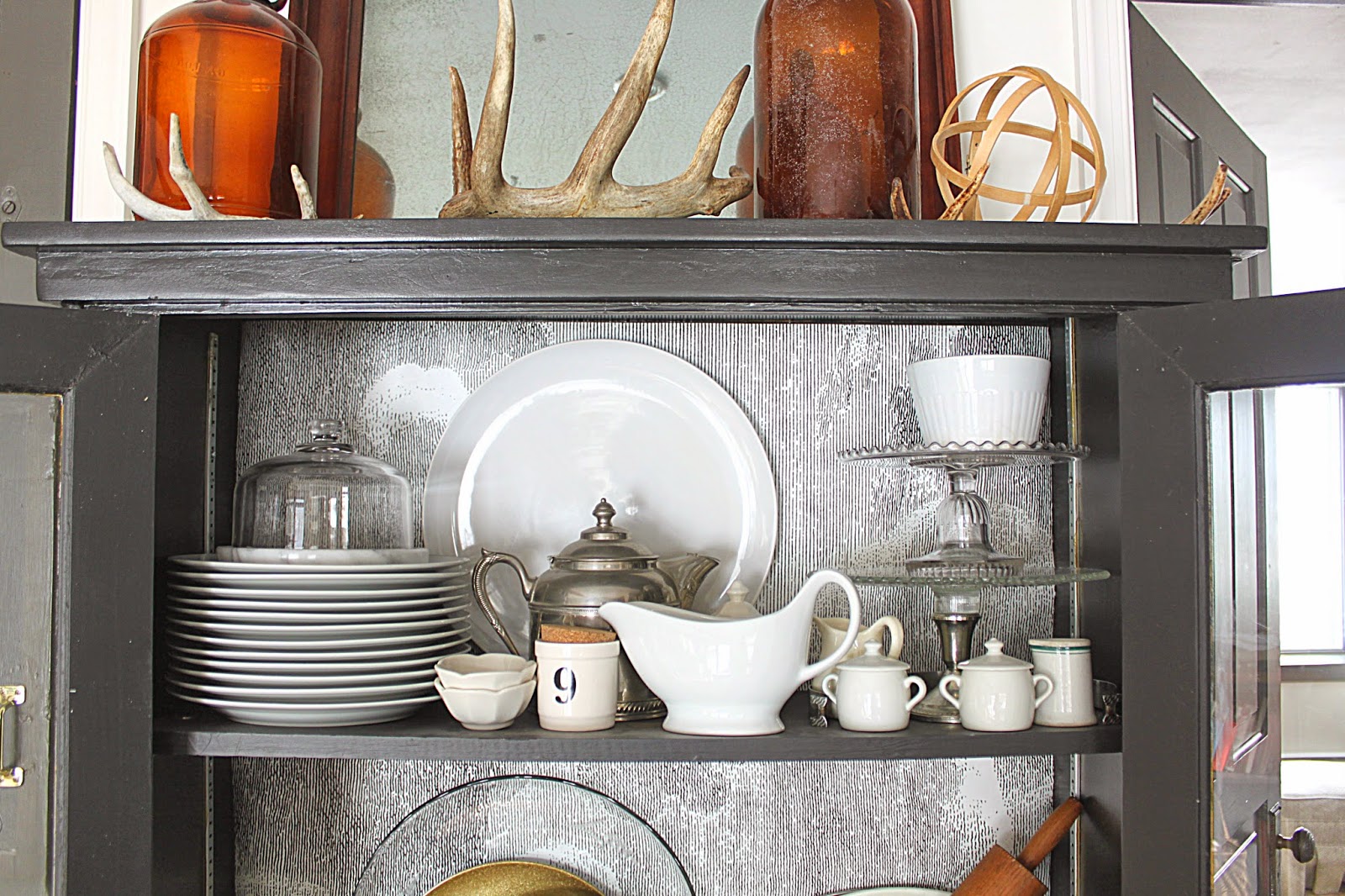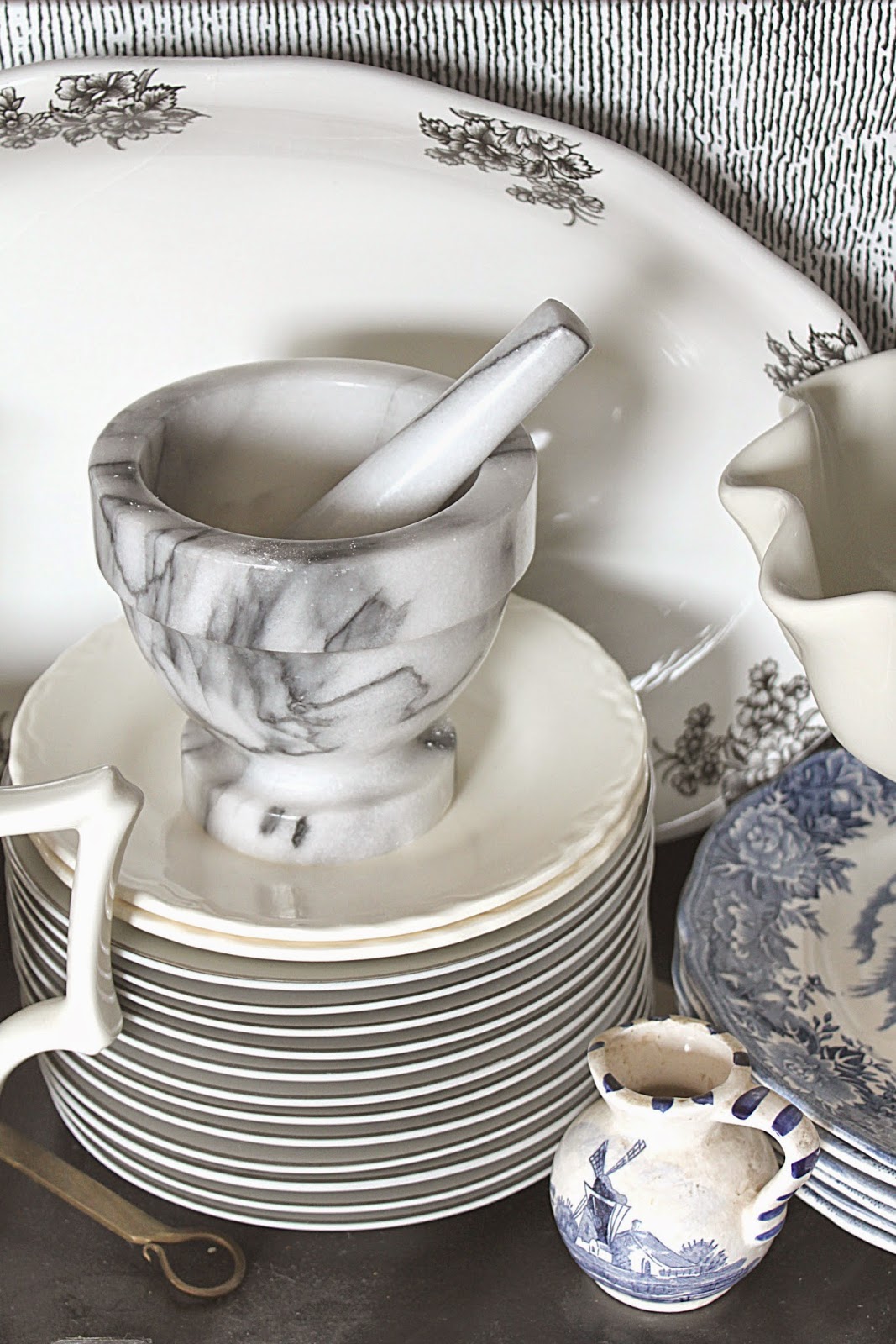 And here's our Dutch door that we made. I love this door. It used to be my neighbor's front door, but then they got rid of it and I snatched it up. We painted it, cut it in half and added a ledge (and fun old metal sign to cover up the old mail slot) to it. The stairwell leads down to our basement 
family room
.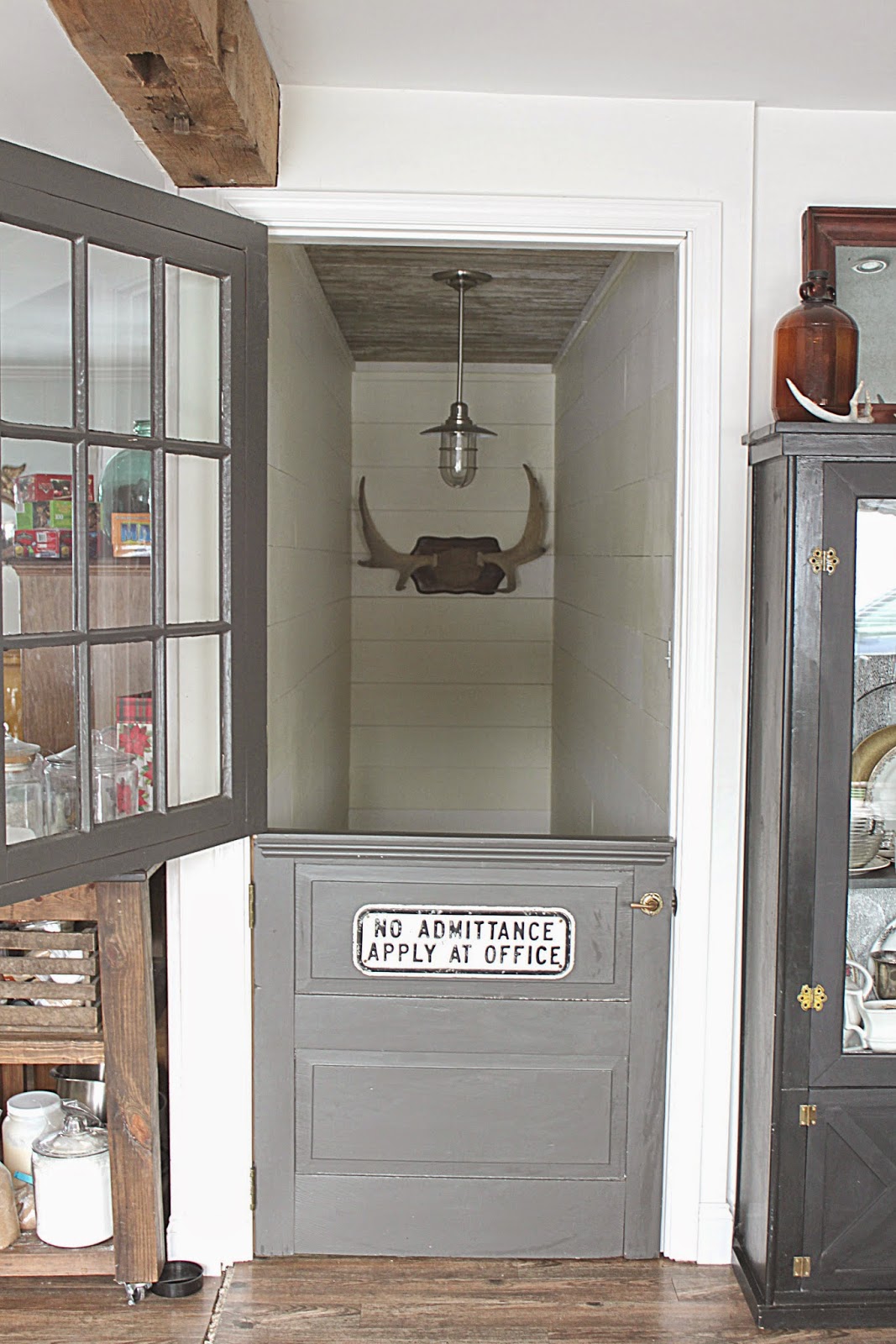 Go here to see the transformation of our hutch! Happy Wednesday.