This is what our house has looked like up until recent days. Remember when I 
painted the front door magenta
? That was way back in April! After that, Mitch bumped out around the door and attached the faux side-lights and things kinda came to a grinding hault. I suppose that's what happens when you work on/complete projects as you save up the money for them. It's been our dream to replace our siding, but we didn't think it was a possibility any time soon. Well we ended up having enough saved to complete the front of our house (which is $3k), so the front of the house is getting a makeover. Yay!!!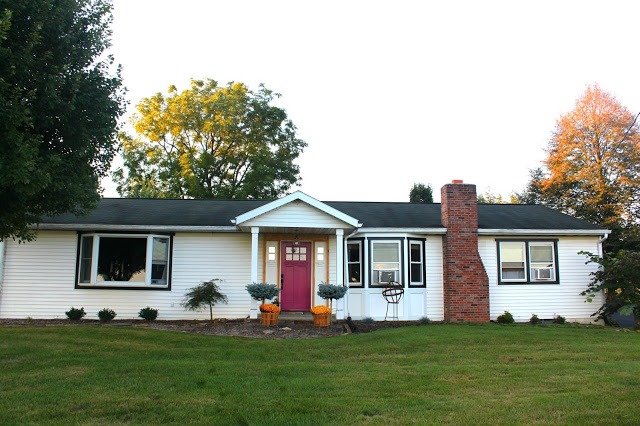 When thinking about what we wanted to do, we knew we wanted to beef up the insulation of our house. When our house was built back in 1980, they slapped it together using the cheapest materials. The exterior only had a 1/2″ old style open-cell foam board on it that wasn't even taped at the seams. The open-cell board isn't nearly as effective as closed-cell so during the winter months, it was freezing cold in our house. And unfortunately our house is heated with baseboard heat (also, not so effective/energy efficient) which made our electric bill soar up to $350/month during the winter. And let me tell you–it wasn't even warm in our house. That just took the "chill" out of the air. We would sit on our couch bundled up in blankets in the evening if we wanted to hang out in the living room. Not fun. We were literally throwing money out the window (or walls/doors/ceiling, in our case). So the first thing to remedy that (or so we thought) was to replace our old windows. Long story short on that one, when/if you get new windows, make sure to research the company who makes the windows. Unfortunately the window company we bought ours off of does a subpar job at making windows (we literally could see daylight in every window where they were supposed to be sealed) and we've had major issues with them. The company did come out once to "fix" them (by adding some weather stripping), so we're hoping (but definitely not banking on) the windows will be okay this winter.
In the mean time, blown-in insulation was added in our attic, the foundation in the basement was sealed (with foam board/spray foam) and an insulation "box" was made around the door of our attic to help with heat loss. So we're definitely making our house more efficient.
So, on to the siding. We knew we wanted to not only add additional foam board (and tape the seams this time!) but we also wanted to use 
James Hardie
 siding. I saw a picture of this rancher on Pinterest when researching Hardie products and immediately fell in love. The house is two-toned with Hardie shake siding on top and lap siding on the bottom. Super cute, right?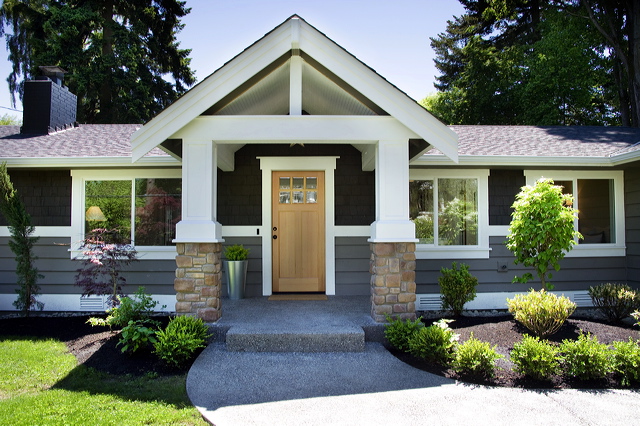 So I asked my friend if she could do a mock-up of our house with the same products, except ours would be white shakes on top with gray lap on the bottom. Here's what she came up with.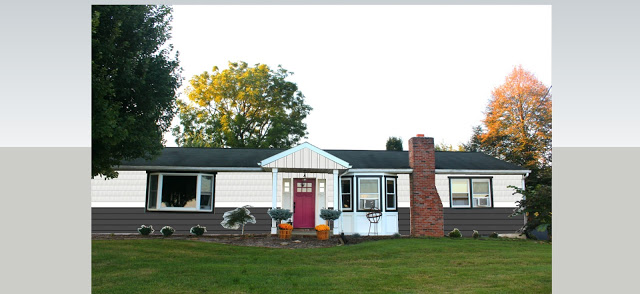 We weren't 100% sold and since I couldn't find any other ranch-style houses with this two-tone look, we decided to play it safe and stick to a single siding choice. Then, we were going to go with an all-shake look, but in the end decided to go with board and batten, since the shake siding only came in specific colors. The board and batten will come primed and we'll paint it white to match the rest of the siding. For those who aren't familiar with the board and batten look, here are some images I pinned.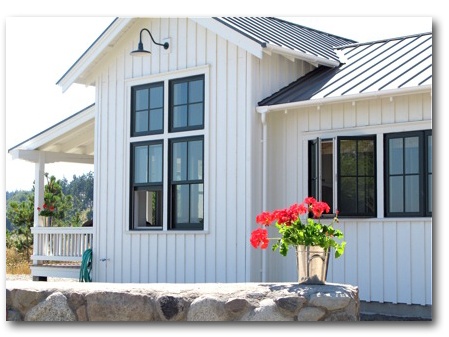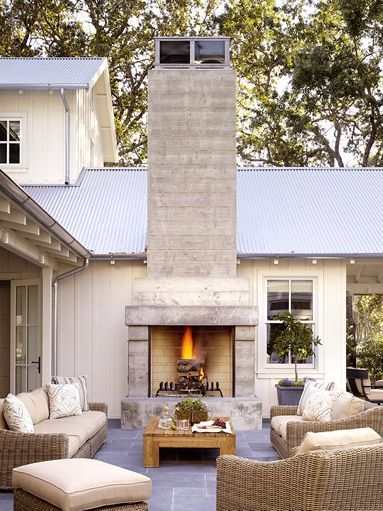 Board and batten in the pitched portions here.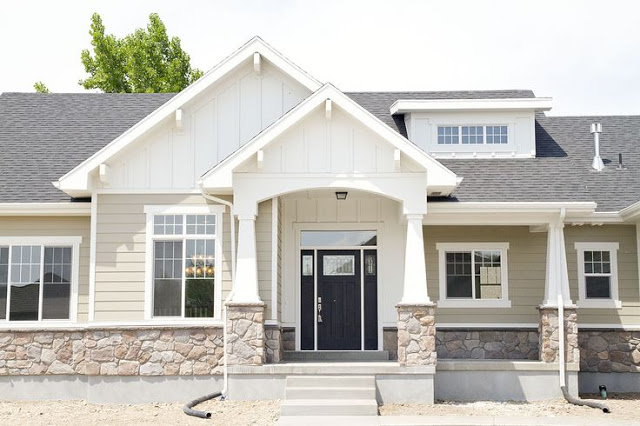 I just love the classic look. Plus, it's something that's not overdone. Especially here in Lancaster County. And if you've followed this blog long enough, you know how I love a unique look. Nothing cookie-cutter here (hence the pink door)!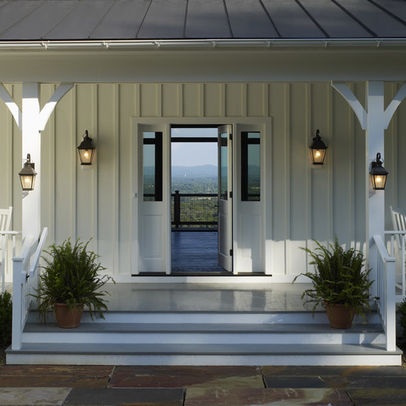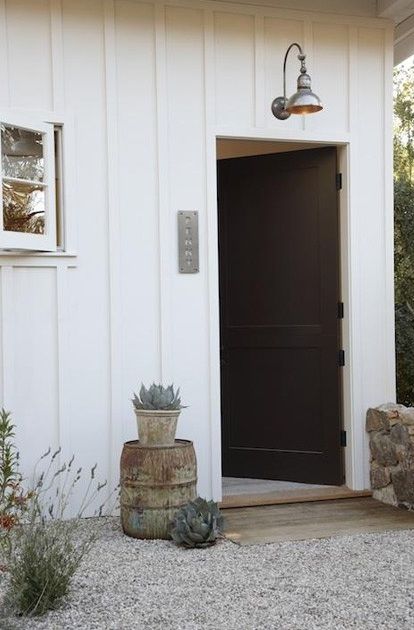 We decided to use shakes for the portico part of the entrance, just to mix it up a bit. They'll still be white, but will add some texture.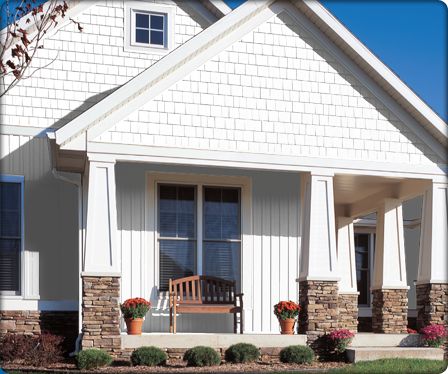 Now that you have an idea of the direction we're going, this is where we're at right now. To save on cost, Mitch removed all the old siding, taped the old foam board, and is adding an additional 1″ foam board on top. Then the contractor will come in and install the Hardie siding, which is a cement board siding that's about 1/2″ thick itself. So the R value should be GREATLY improved with all the changes being made.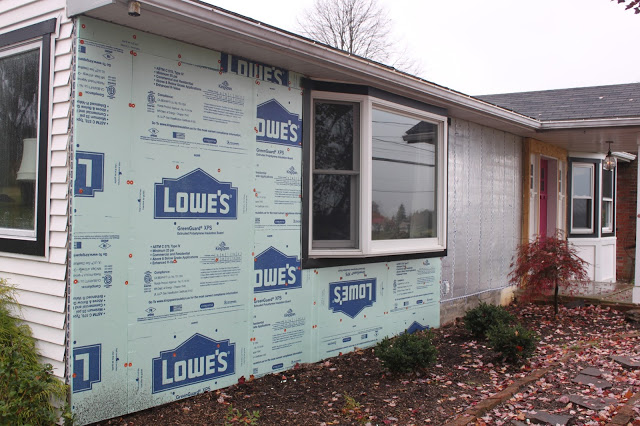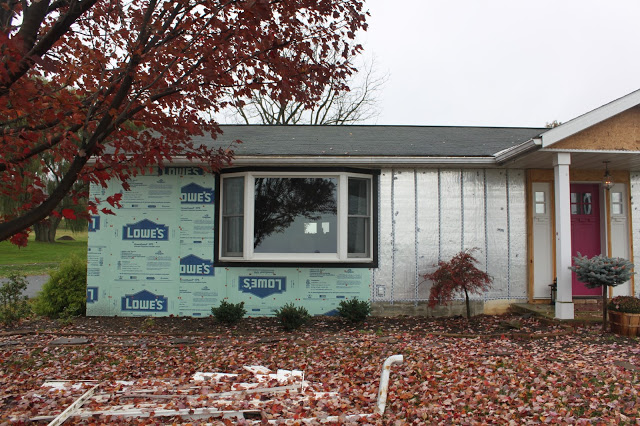 Below the bay of windows, we had that area done a couple years ago when the windows were put in. It's Azek material trimmed out. And we love it. There used to be old dingy vinyl siding there that looked terrible. We had those panels put on for a clean and simple look. Although, now I'm concerned about the insulation factor there, since foam board wasn't added at the time it was done. So not sure what we'll do about that yet.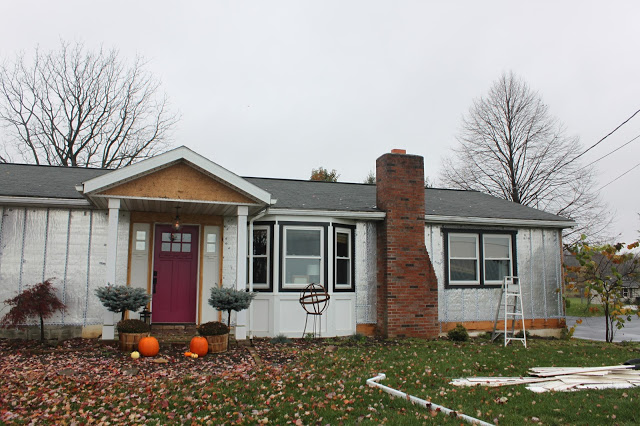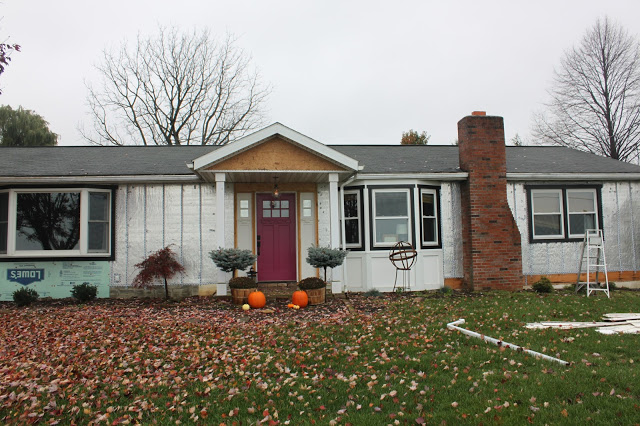 We're also getting new gutters in the front and we're going to go with gray ones, with the hopes of redoing our roof in the near future. This little house here is big inspiration for the look. And yes, ours will be a metal standing seam roof as well:)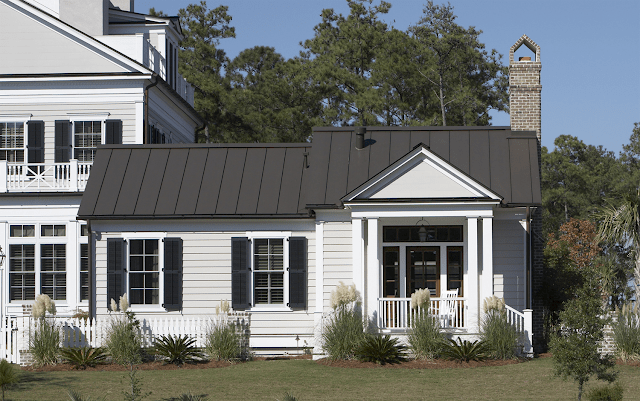 So that's what's up right now at the Hertzler house. People who drive past our house probably think we're crazy since there's always something going on here! Work is always done in stages. Ha. Oh well, we're getting closer!
What do you guys think? Can you catch our vision for our little white rancher? EEK! The siding will be installed next week so I'm really excited. Stay connected with the progress on Instagram and Facebook in between blog posts.