Master Bathroom: Details
Thanks everyone for your sweet comments about our master bathroom! Today's post is a "details" post–like what the space used to look like, where we got our stuffs, etc. These posts are always killer ones for me 'cause they take a lot of time to write. But I love them! I want to be able to go back through and reminisce about all our awesome finds. So it might take a few posts, I may
will get interrupted 83 times with shouts of "I'm done!" (i.e. wipe me) or "Can I have a snack?" but I'm determined to get crackin' on this thang. So let's get down on it.
For those just joining the par-TAY, let me fill ya in: in May 2010, Mitch and I decided to stay and renovate our tiny two bedroom/one bathroom (with no bath) rancher instead of moving into something larger. The only place we could renovate though (and keep within our budget) was in our spacious two-car garage. So we kicked the cars to the curb (literally) and broke out the jackhammer.
Before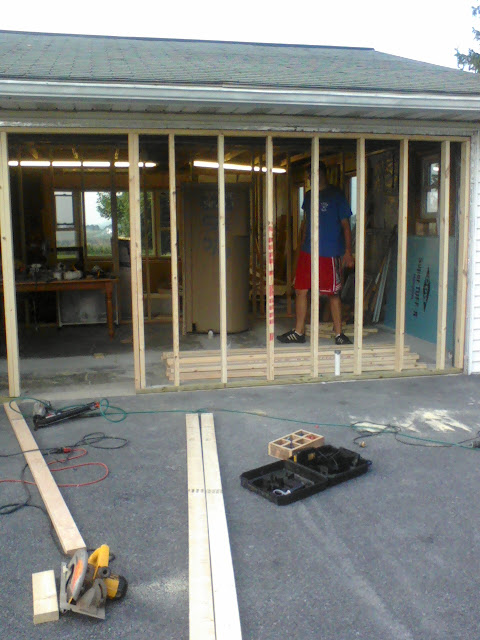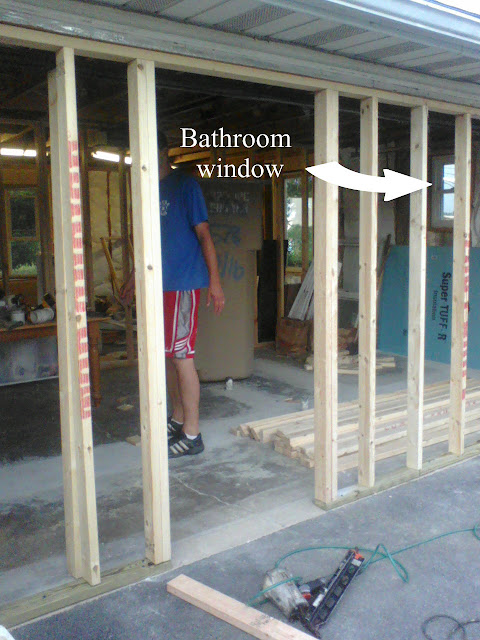 Long story short, we converted our garage into a master bedroom, bathroom, mudroom, and dining area by tearing down the wall that separated the main living area of the house from the garage. (You can read about that here and here.) Okay now let's jump into the bathroom. Well before we go into the bathroom, here's the door to the bathroom–our pocket door turned barn-style door. And yes, it works (it better, considering it's the bathroom on the other side!) This door was one of our first "finds" for the space. We based the whole design around this puppy! I can't remember off hand if I ever "officially" told you guys the story behind the door. I found this door on the side of the road. An old house was being torn down and the owner was selling all its doors and just a bunch of salvaged stuff. When I saw the door, I made a U-ey right there in my sweet Maxima and tracked the owner down. I remember it was raining outside, there was mud everywhere, probably had a kid or two screaming in the car, but shoot–that door was mine, darn it! I paid $150 for it, and I usually try to talk people down, but I would have seriously paid double that price. It was my dream door. Yes, I had a "dream door." Why? Don't you??
Now come on inside.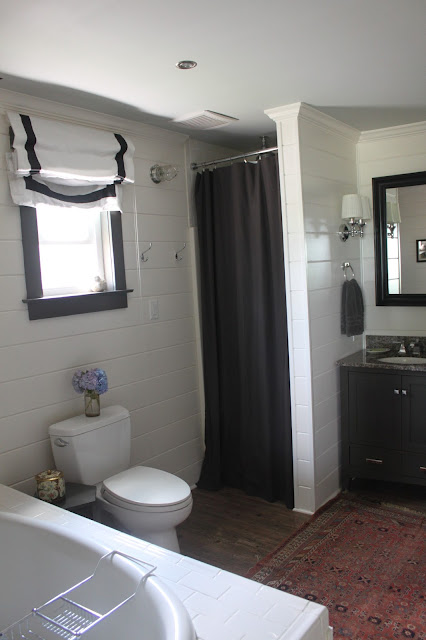 When designing this space, we knew we wanted a few things right off the bat: a tub and a double vanity were at the top of the list and we wanted it to look like "us." Walking into a big box store to pick up everything we needed wasn't an option–budget-wise as well as design-wise. We like unique, definitely not builder-grade, and plus we're cheap. That's where Craigslist and outlet stores came in handy. You guys are not going to believe how much of the stuff that you see in this bathroom was found on CL. EEK! I'm really excited to break it all down for ya.
First of all: the vanity.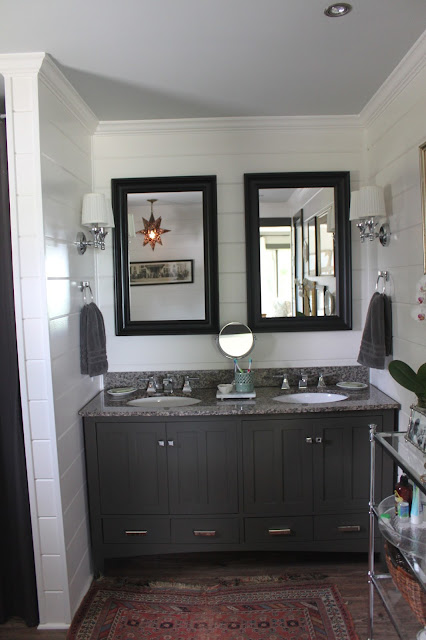 When we bought it off a guy on Craigslist, it looked like this. (The granite top isn't pictured here, but it did come with it.)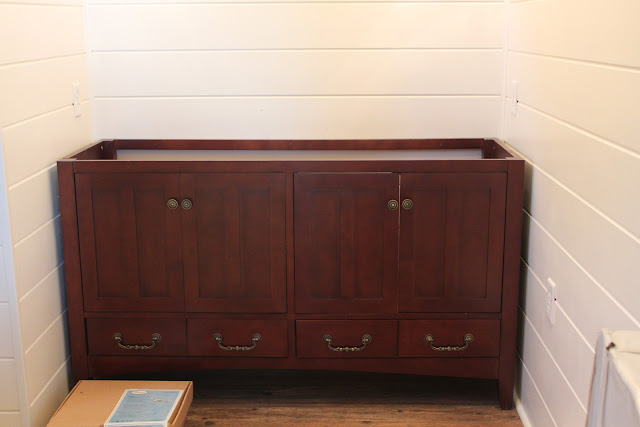 It was just blah. Plus the stain just didn't look right up against our floors. So I took a paint brush to it (BM Dragon's Breath) and switched out that cheap-looking hardware for some nice polished chrome ones. Now she's all blingin' it up. (The new hardware matches the ones on our wardrobes.)
The vanity mirrors are from Ikea. The sconces flanking the vanity are from the JC Penney Outlet (got them for $20 each). Towel rings are from the ReStore.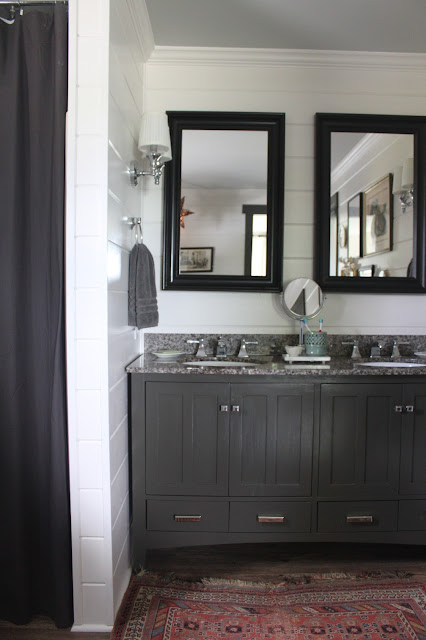 Makeup mirror–Potter Barn Outlet
Marble cheese board, "toothbrush holder," white dish, and ironstone soap dishes–thrifted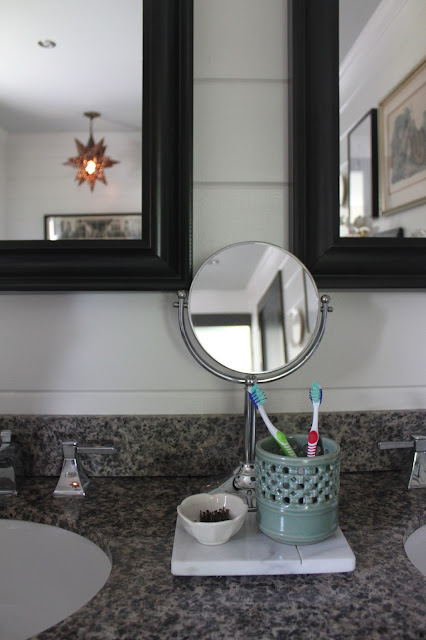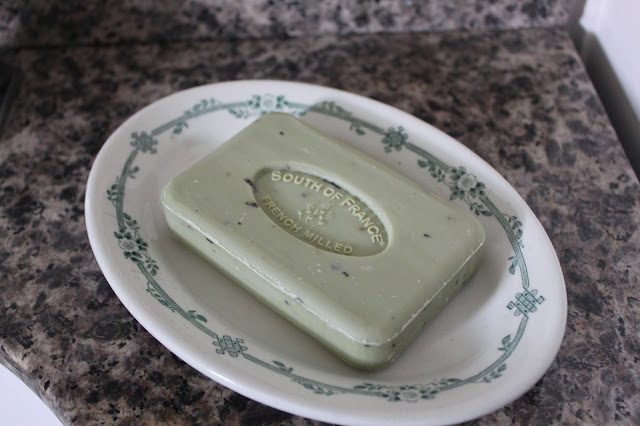 Faucets were purchased off eBay. I love their clean modern lines. They remind me of the Dillon ones from Restoration Hardware, but for like a thousand dollars cheaper. Seriously. Actually, now that I think about it, I think we saved more than that.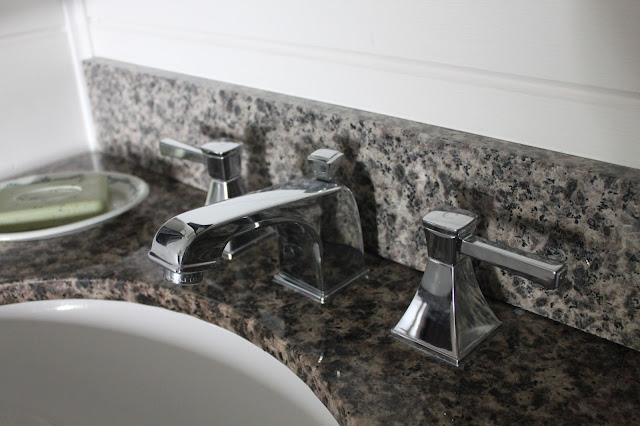 Our tub was another Craigslist find–$85. It's a garden tub…a nice deep soaker. This was the most anticipated part of the bathroom renovation for me (although the boys are using it the most right now…until they get their own). Mitch and a friend from church built the tub deck and tiled the top with subway tile. That was probably the most inexpensive option for the top of the deck. I had a granite guy quote me $1,200 for a slab of granite for it! Yikes! Tub faucet was found on eBay. Love the vintage vibe it brings.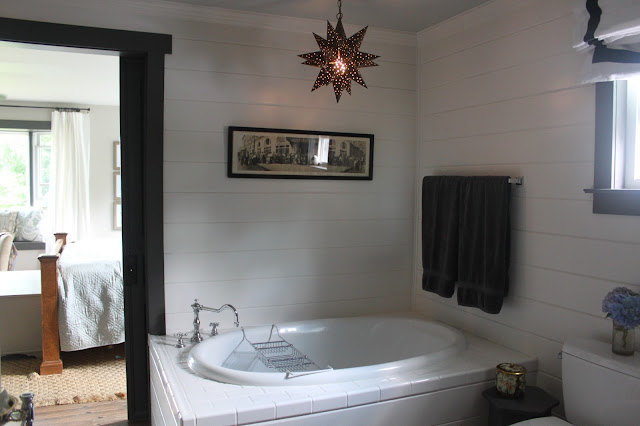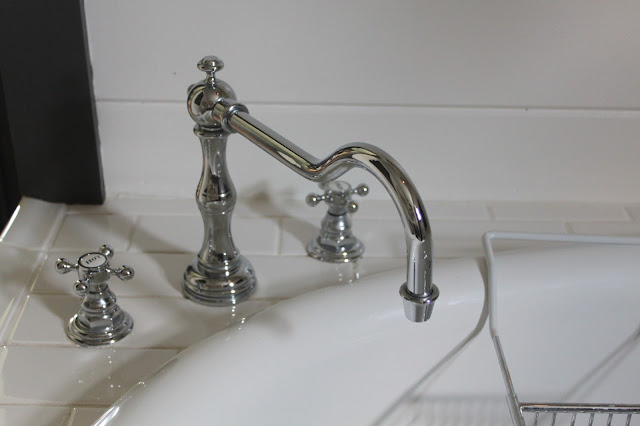 The Moravian star pendant was found on CL. A lot of people in Lancaster County have these hanging on their front porches. The small town of Lititz (located in Lanc. Co.) was founded by members of the Moravian church, so the star is a nod to the history of Lancaster County natives. Mitch likes to refer to the star as "the star of death" since he's bumped into its sharp edges a couple times:/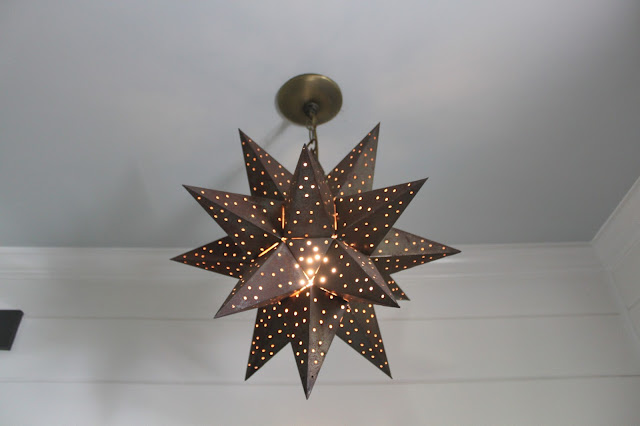 The photograph that hangs above the tub was another road-side purchase. The original glass was cracked so I had a new piece cut to size.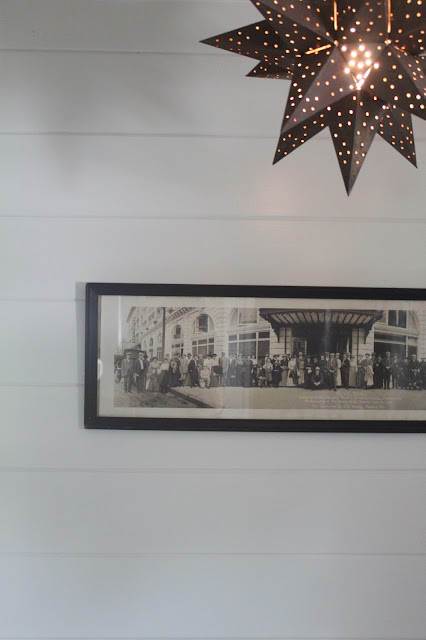 I love it! And I knew hanging it above the tub would be the perfect place to make a statement. An understated statement (does that even make sense?) since it's the lone picture on that wall. The picture was taken in Denver, Colorado, but these were people from Reading, PA who were headed to San Francisco to attend the Panama–Pacific International Expo. You can't see it in these shots, but there's a couple of young guys hanging out of the windows of the hotel pictured behind. They wanted in on the action! Looking at this picture makes me smile.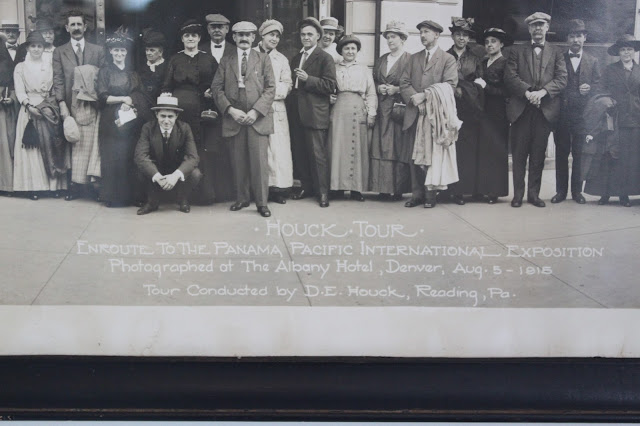 The relaxed Roman blind was found on clearance from Windows by Melissa. Crash tan (as Bryce likes to call it) was from The Dollar Tree. (That's trash can, for those still scratching your heads.)
Toilet: you guessed it–Craigslist! We could never afford one of these guys otherwise. It's a Toto that retails for like $400. We got ours for $80.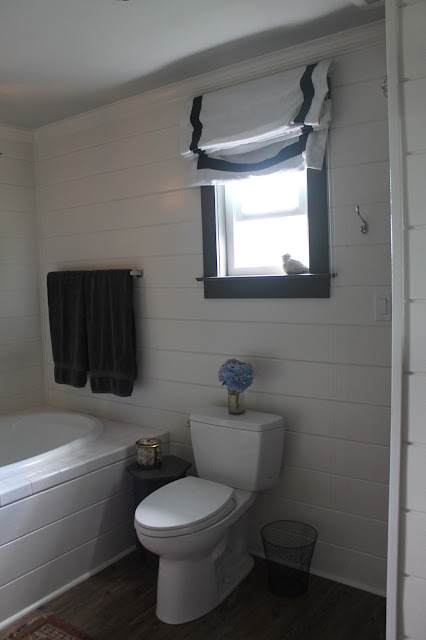 It has a slow-close lid so no more slammin' the seat down after the boys leave it up. Not that I've ever done that… The little Moroccan table next to it serves two purposes: it "hides" the plumbing behind it and also houses the tin in which our toilet paper resides. I like thinking outside the box for the less-than-pretty-but-definitely-needed stuff.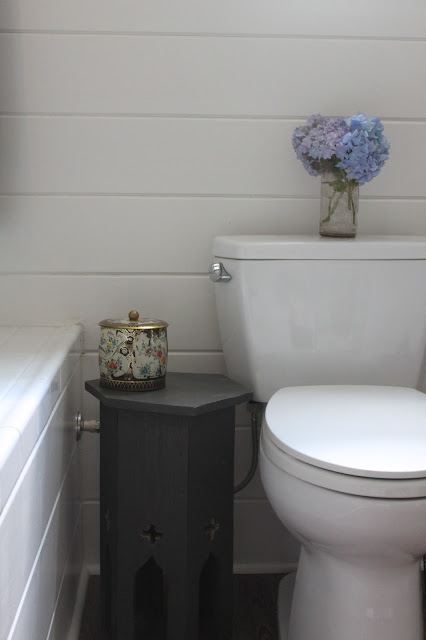 The vintage Oriental tin was 47 cents at Goodwill:)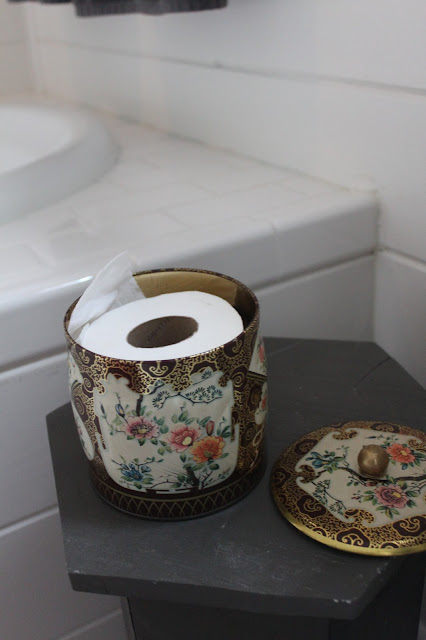 This glass shelf was an outlet store purchase that was made several years ago. I walked into the Restoration Hardware Outlet, and saw this glass etagere there for $20. I asked what was wrong with it and the salesperson and I opened the box and saw that one rod was bent. I didn't care. I bought it. I thought, "Shoot, for $20, it's worth taking a chance." When I brought it home, Mitch bent the rod back with his Hercules-like strength and put the shelf together. And now it's in our bathroom. What's kinda funny is that the rod that was bent went inside the chrome legs, so you don't even see it! So I got a $300 shelf for $20. BOOM! That's how we roll.
Art: Audubon print of the ruffed grouse (PA's state bird) was found at Goodwill. Modern squiggly print from Ikea; ironstone platters were thrifted; as was the Currier and Ives print; and a photo of my boys. And I'm pretty sure all the containers on the shelves were either from a thrift store or yard sale.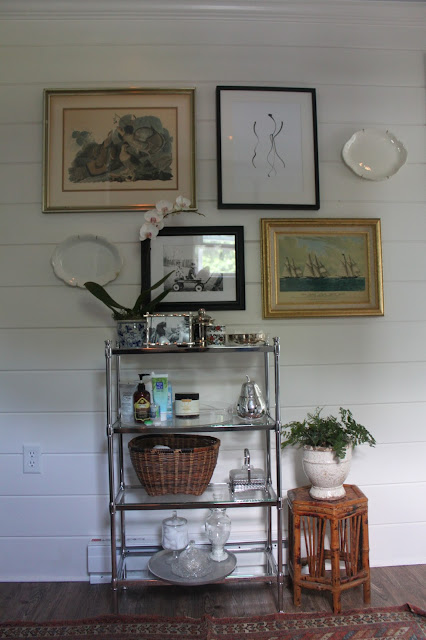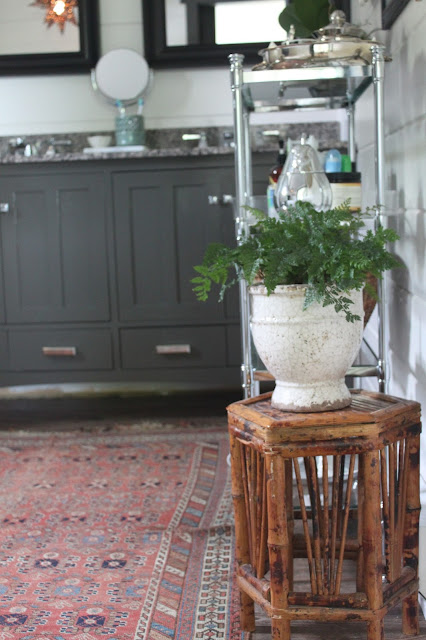 Instead of a typical bulky (and sometimes not-so-pretty) tissue box setting out, I opted to place our tissues in a silver dish. Much more pretty!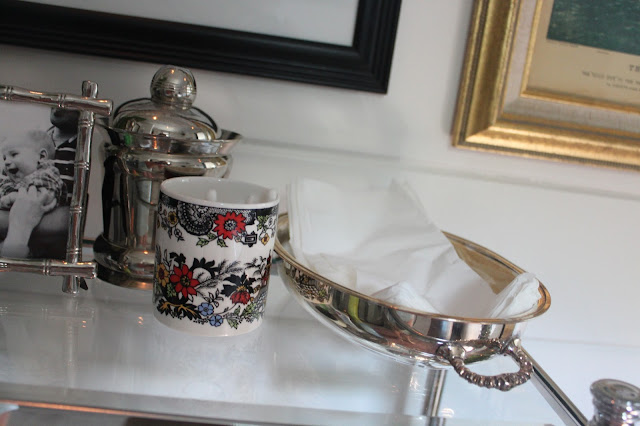 The shower stall was the only "big thing" that we bought at a big box store. We got it at Home Depot and figured it was probably easier to clean than a tiled one. (Plus we got it before Mitch figured out he was a tiling Ninja.) He did tile the tops of the walls above the stall. I thought it'd look nice from the outside and gives the impression of an entire tiled shower. The Kohler shower head was purchased on eBay. And the shower curtain is actually an Ikea Ritva curtain that was hemmed and hung super high (so Mitch doesn't have to duck while getting into the shower) with clip rings onto a curtain rod from Target. You probably already know this, but you can get shower curtain liners that are seven feet tall. That's what we did–Bed, Bath, and Beyond sells them. Although I do miss the days of Mitch peeking over the shower curtain to talk to me while I was bugging him about our next thing to do on our renovation list. Ya can't win 'em all, can ya?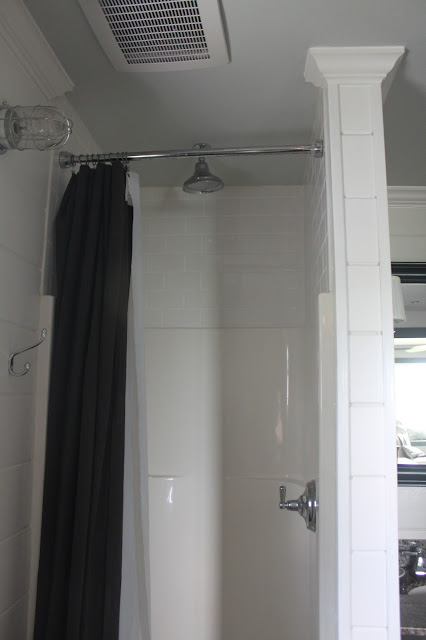 We added this Barn Light Electric light at the last minute (after all the wiring was done!) I totally thought we had our bases covered when it came to lighting in the bathroom. We have pot lights, sconces and a pendant but when the shower curtain was closed, it was dark inside the shower! Mitch figured out how to wire the light to the exhaust fan. Isn't he a smart feller? He added a switch beneath to turn the light on and off. The fan is on if the light is on, but the light can still be turned off with the flick of a switch, does that make sense? It was the only way to work it without tearing too much into the wall. And I love this fun light! (it's cheap too–check it out) We may be adding these to the boys' bathroom.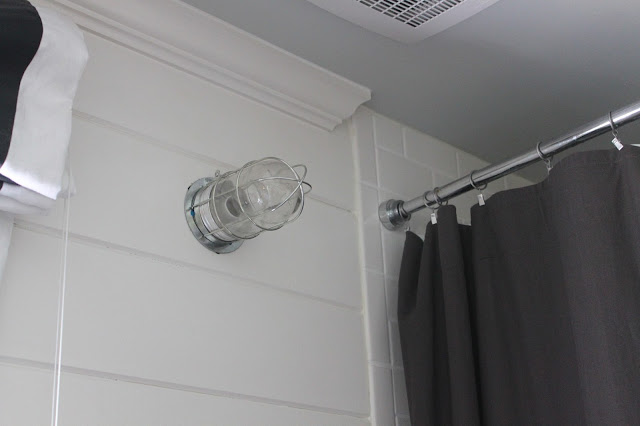 This is the view toward the door and linen closet. All the trim and doors in the bathroom are painted Benjamin Moore Dragon's Breath (semi-gloss). The planked walls are Behr Swiss Coffee (semi-gloss) and the ceiling is (supposed to be) Benjamin Moore Titanium (flat). I had it "matched" to Behr paint but it turned out darker than Titanium (which is the ceiling color in our bedroom). It ended up being a good thing being a tad darker and I love how the subtle color looks against the creamy white walls.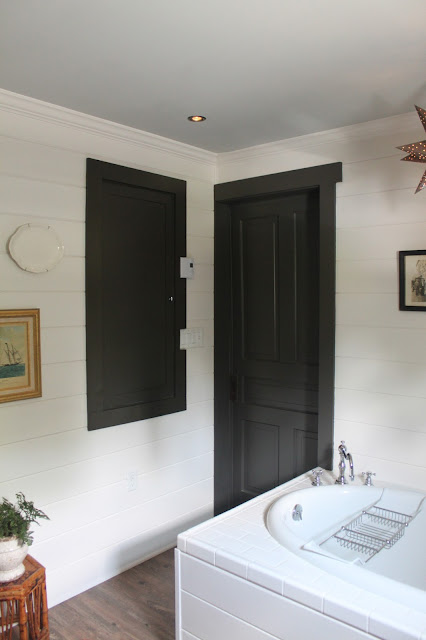 The inside of the linen closet is papered with a vintage Schumacher wallpaper that I found at Goodwill. I love the surprise of finding a beautiful metallic wallpaper-backed closet when you open the door. It's unexpected. Mitch built the closet. We originally didn't think we had room for one, but he made it work! And I'm really glad he did.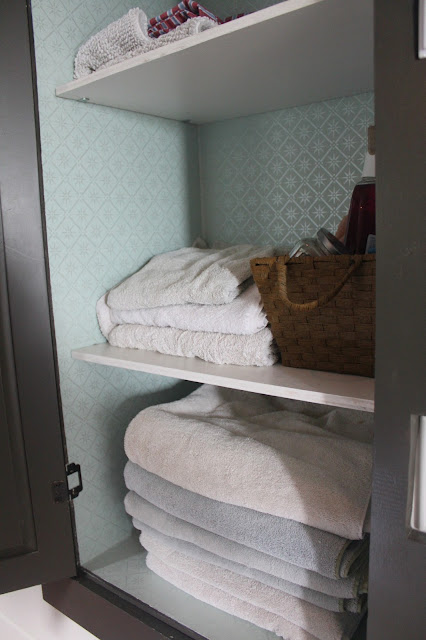 This is one of my favorite views when I'm lying in my bed–I love how the different colors and textures of the walls meet together at the trim of the bathroom door. And I love being able to say that Mitch did all that with his own two hands.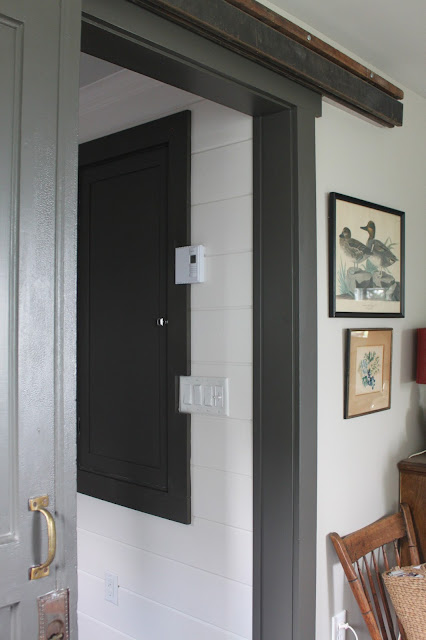 The antique rug was found on CL. And the flooring is vinyl planks from Lumber Liquidators. I want to do a separate post on the vanity top that we glued back together after I broke it:/ But other than that, I think everything's spoken for. If I missed something, leave a comment.
Whew!! We made it! Bryce literally just asked me for a snack…so I must go. Hope you enjoyed our new bathroom tour!