We finally got around to finishing up our laundry/mudroom. Well…if I were completely honest, there are still a couple things (adding some trim & painting) left to do yet so we can't completely check off this area just yet. But I thought you guys would enjoy seeing it anyway. It's come a long way, baby.
This is where we started–remember our renovation included converting our two-car garage into more living space. That Craftsman-style door was added and brings you into our mudroom.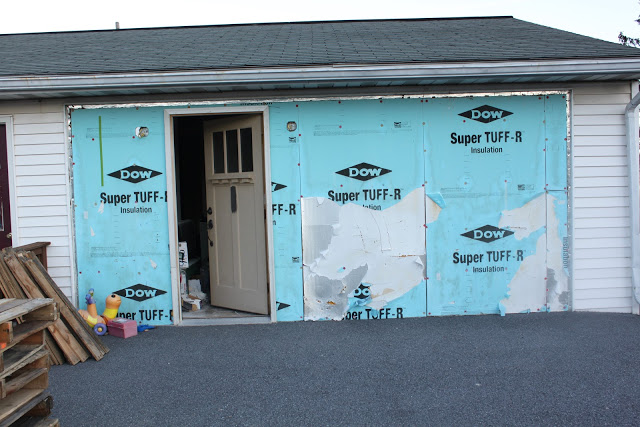 Here was the inside after Mitch framed it all, added plumbing for the washer, and added the electrical lines. (There's the backside of our mudroom door.)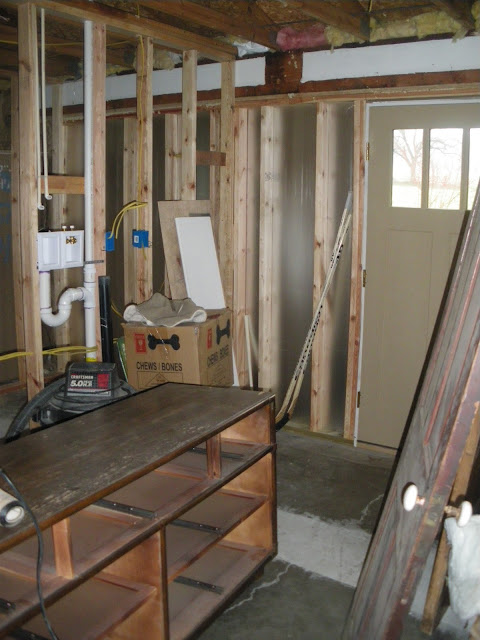 And this is where we added the mudroom closet.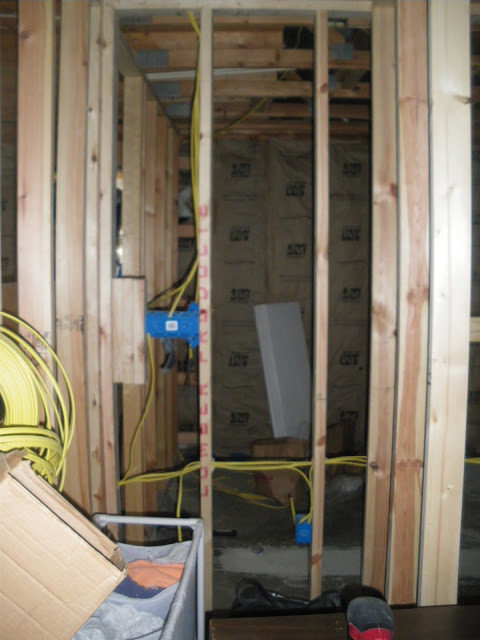 Now this is what everything looks like: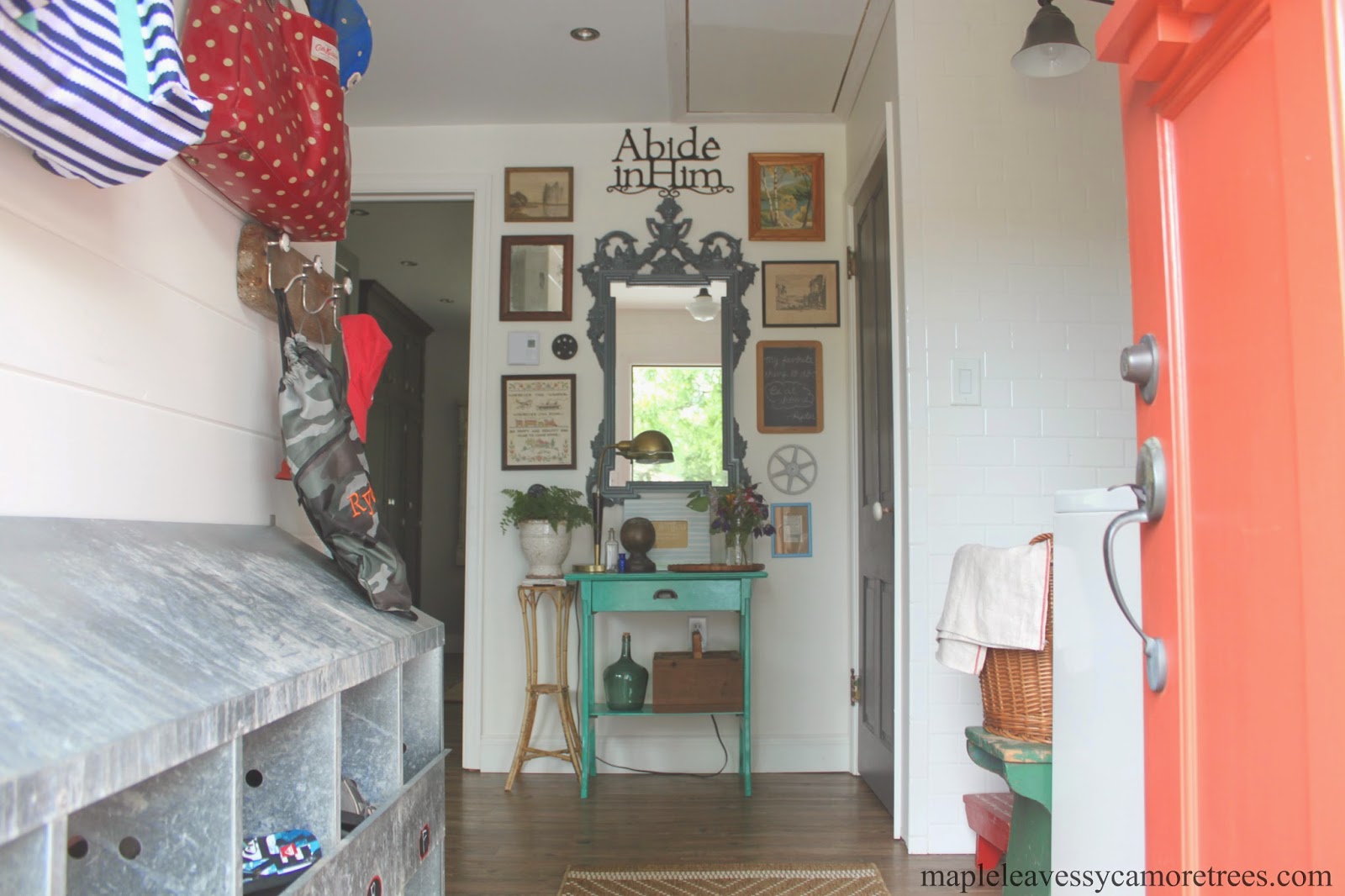 Right from the get-go I wanted wood planks on the wall for durability's sake (plus I love the way they look). There's no way a hole is going to happen in this wall. Not even a steel-tipped boot (which Mitch wears to work) could do that. And with three boys, durability is always a top priority. Planks are painted in Behr Swiss Coffee in semi-gloss finish.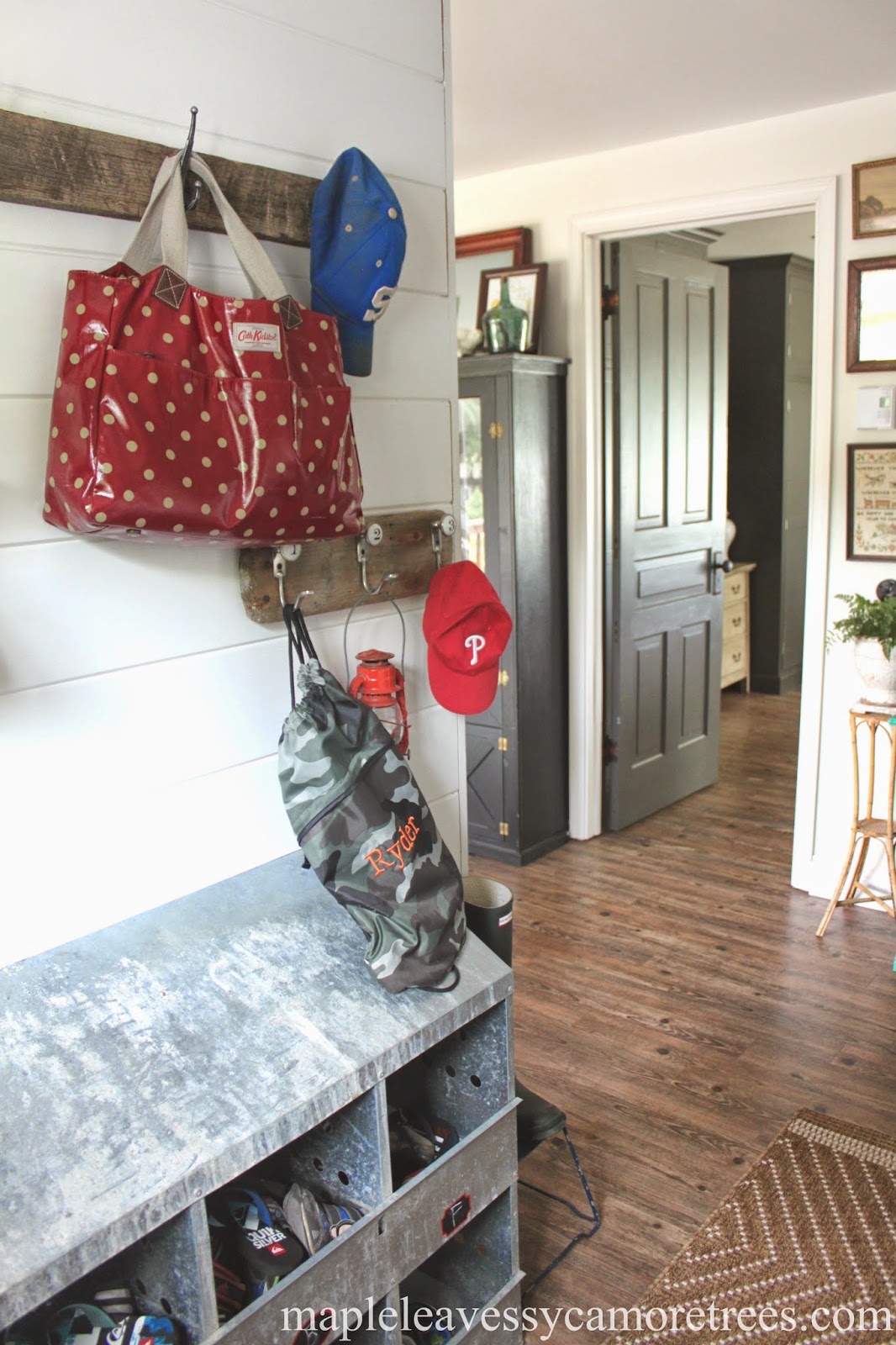 Since we were limited with square footage, we needed this space to be multi-functional. What was needed was a place for shoe/coat storage, a small entry table, "hidden" storage in the form of a closet, and also it had to function as our "laundry room." Well I can proudly say–this space does it all. (read more about the entry table makeover here)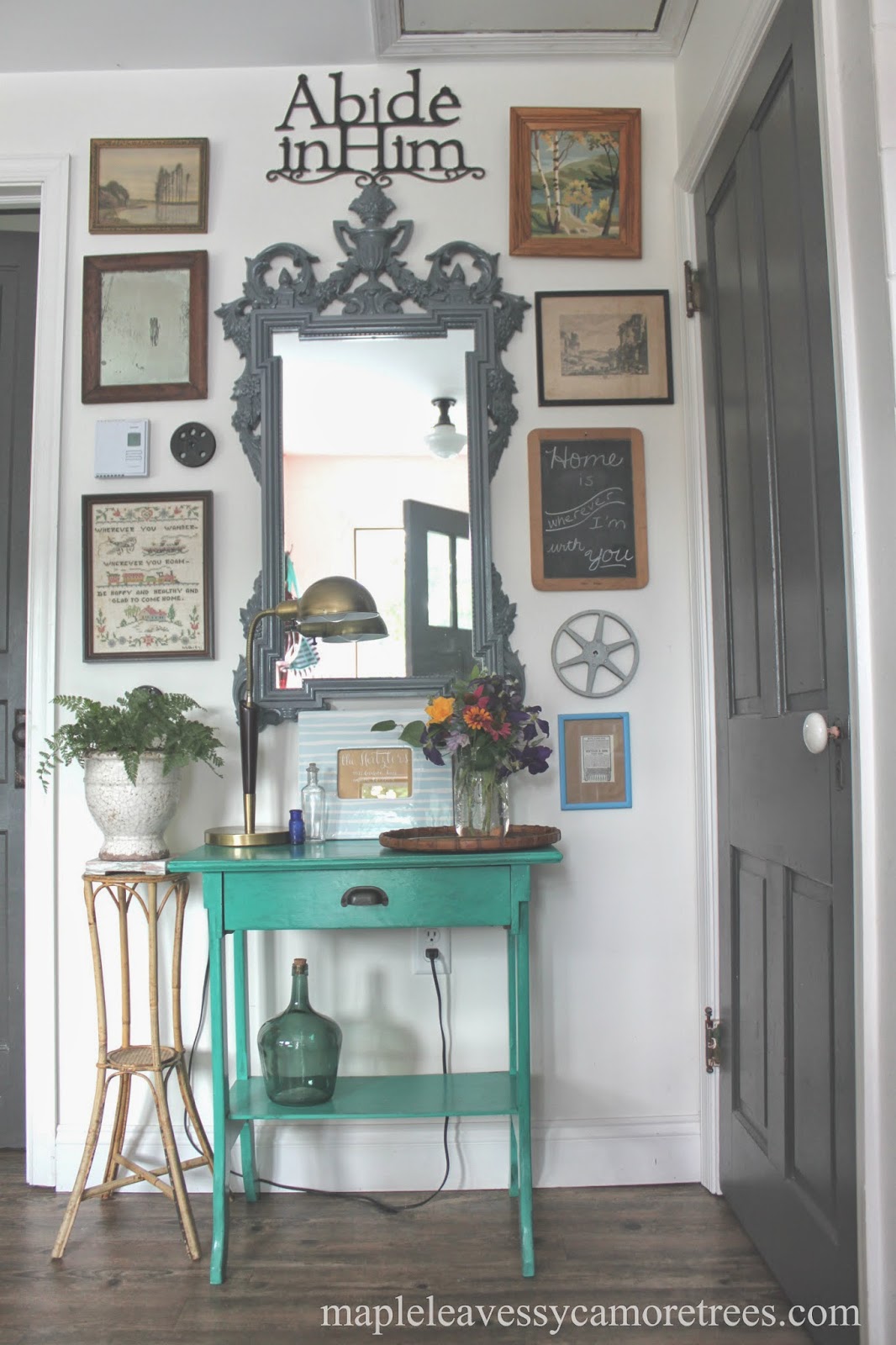 The little entry table houses a collection of eclectic decorative pieces that change with the seasons and also functions as my charging station for my phone. I recently framed an envelope that had beautiful handwriting on it (our name and address). It was from a wedding invitation and was too pretty to throw away, so now it lives in a frame on our entry table.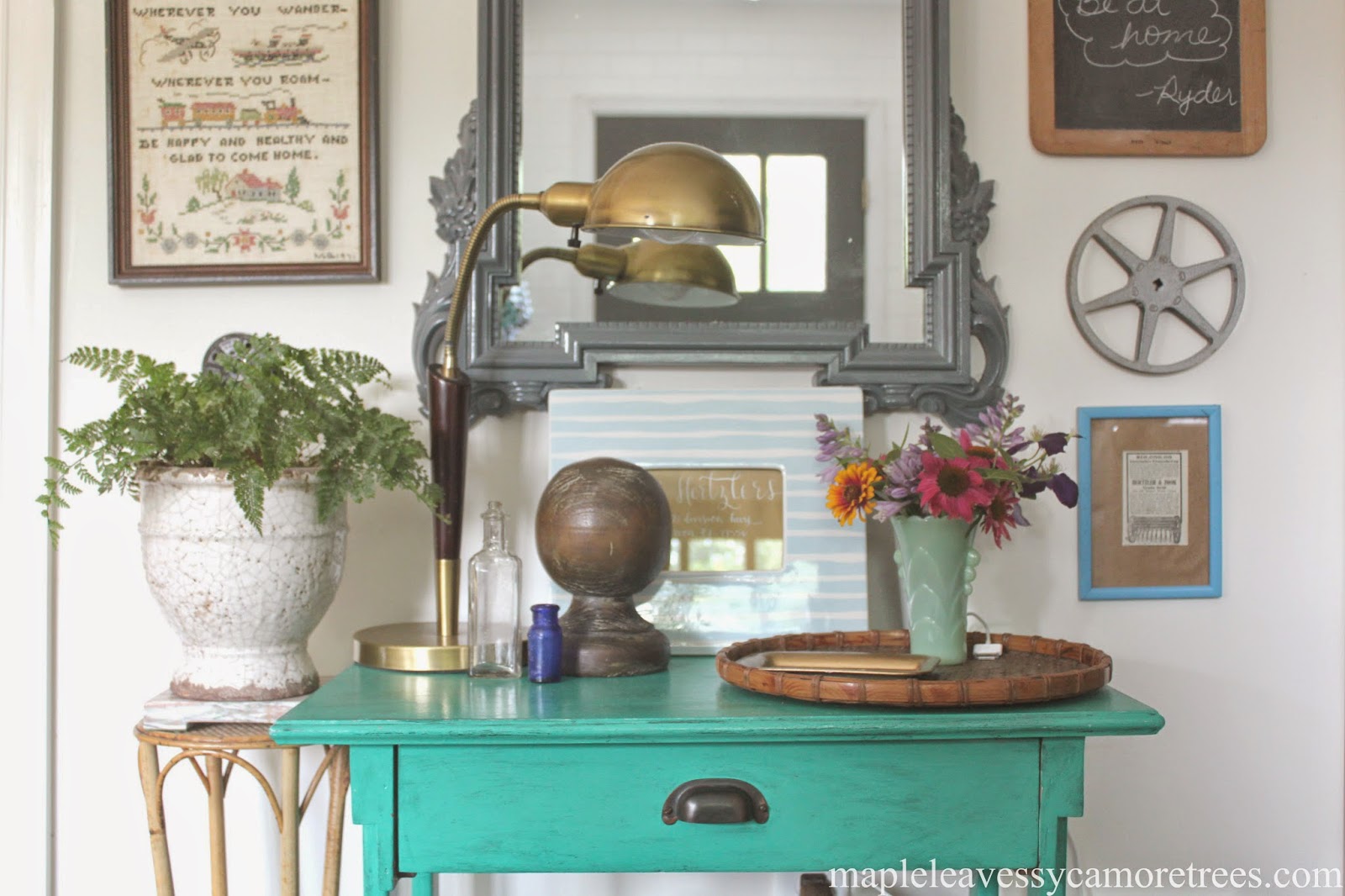 I picked up this sweet cross-stitched picture last weekend while out thrifting. This purchase is what kicked the whole "let's finish 'er up" into gear. I decided to do a little gallery wall here in the entry with other items I had around.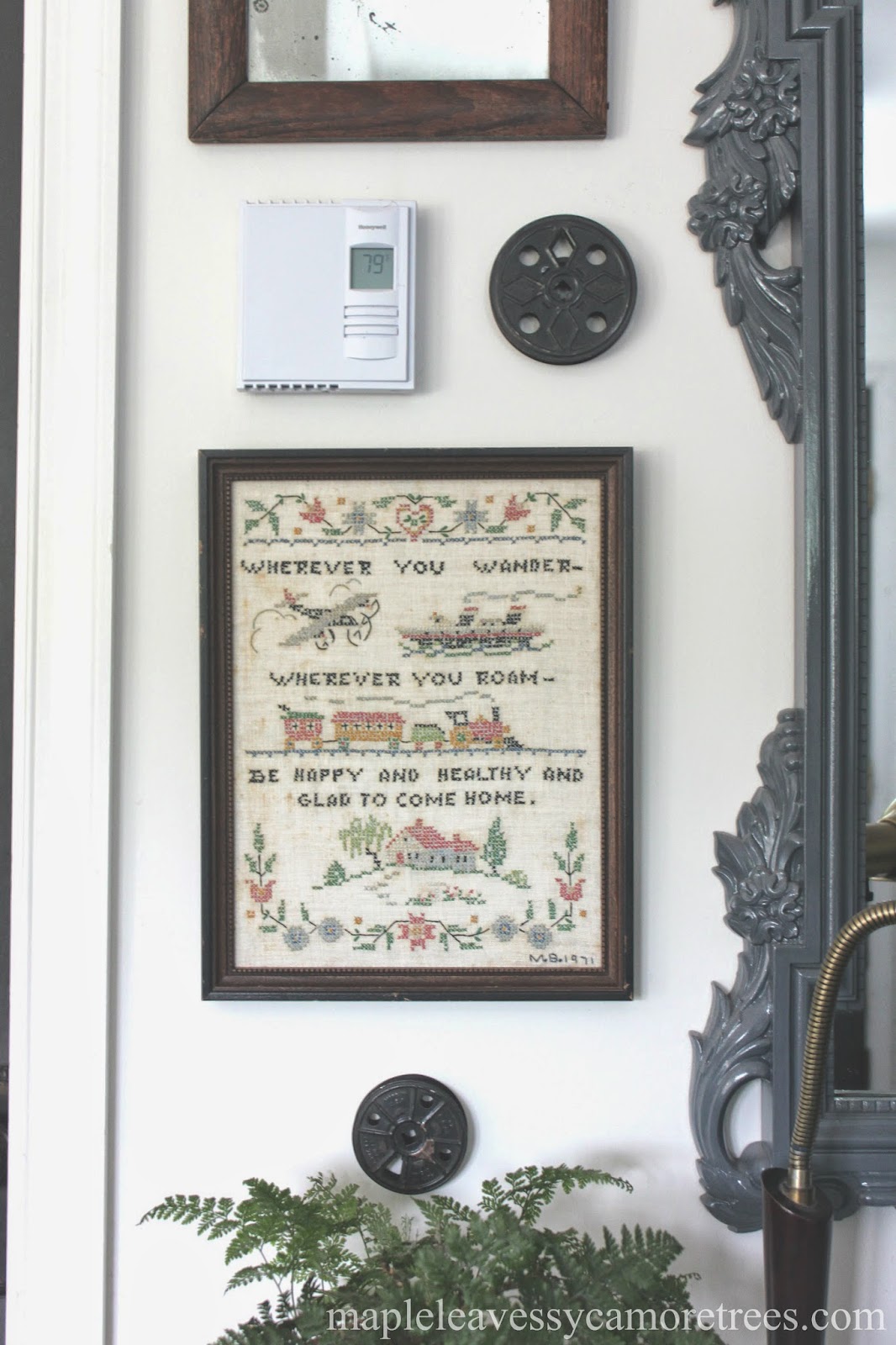 I initially had this generic "home" saying written on the chalkboard, but it didn't feel right so I changed it. Not that there's anything wrong with that particular saying, but I love making things personal in a space, ya know? Decorate with things you love, even sweet/funny quotes from family members.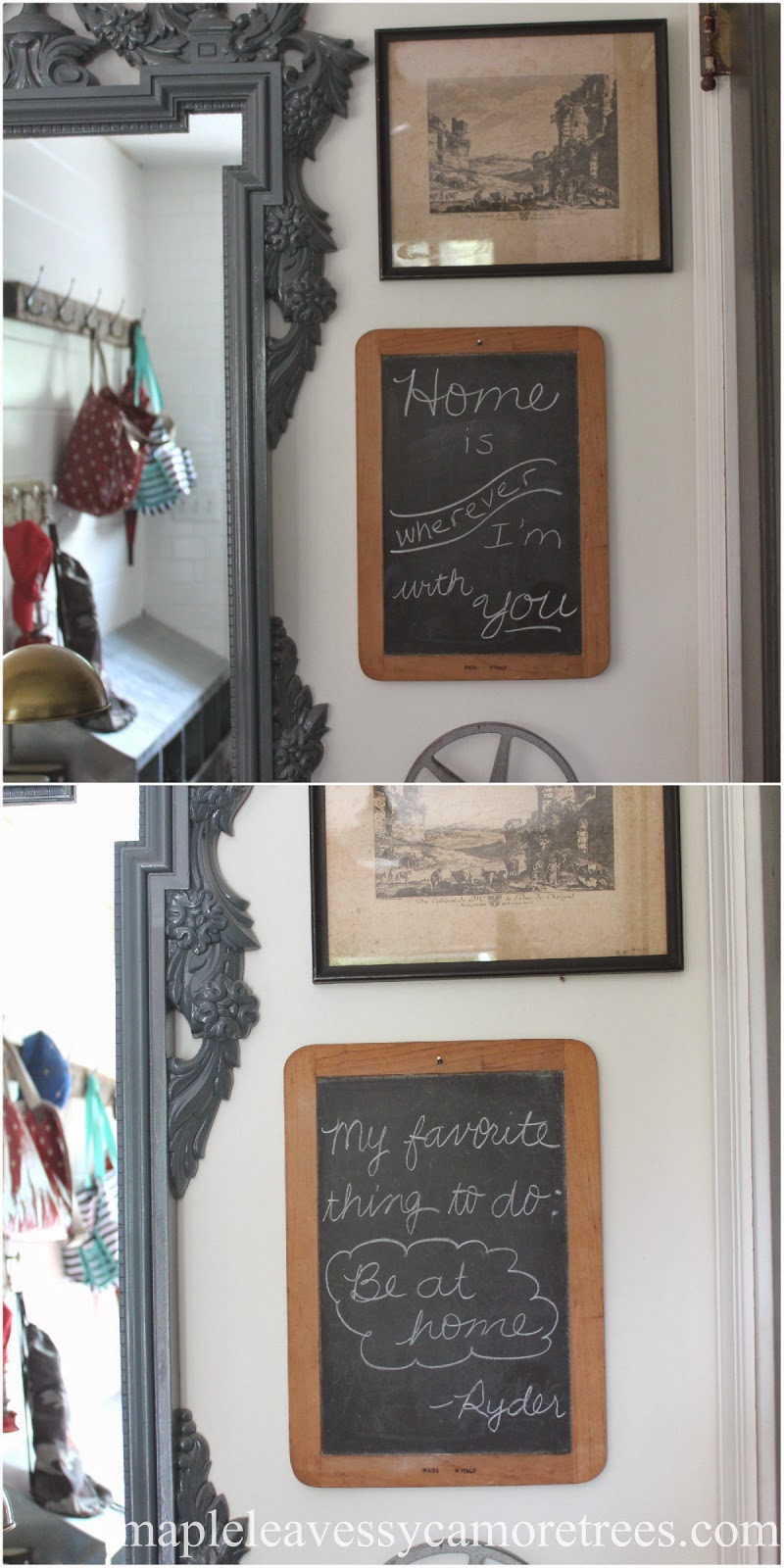 Fresh flowers always put a smile on my face. These are from our own yard. I'm determined to use flowers more in my home this summer. They're too beautiful just to be admired in your garden…bring them inside and enjoy them throughout your day!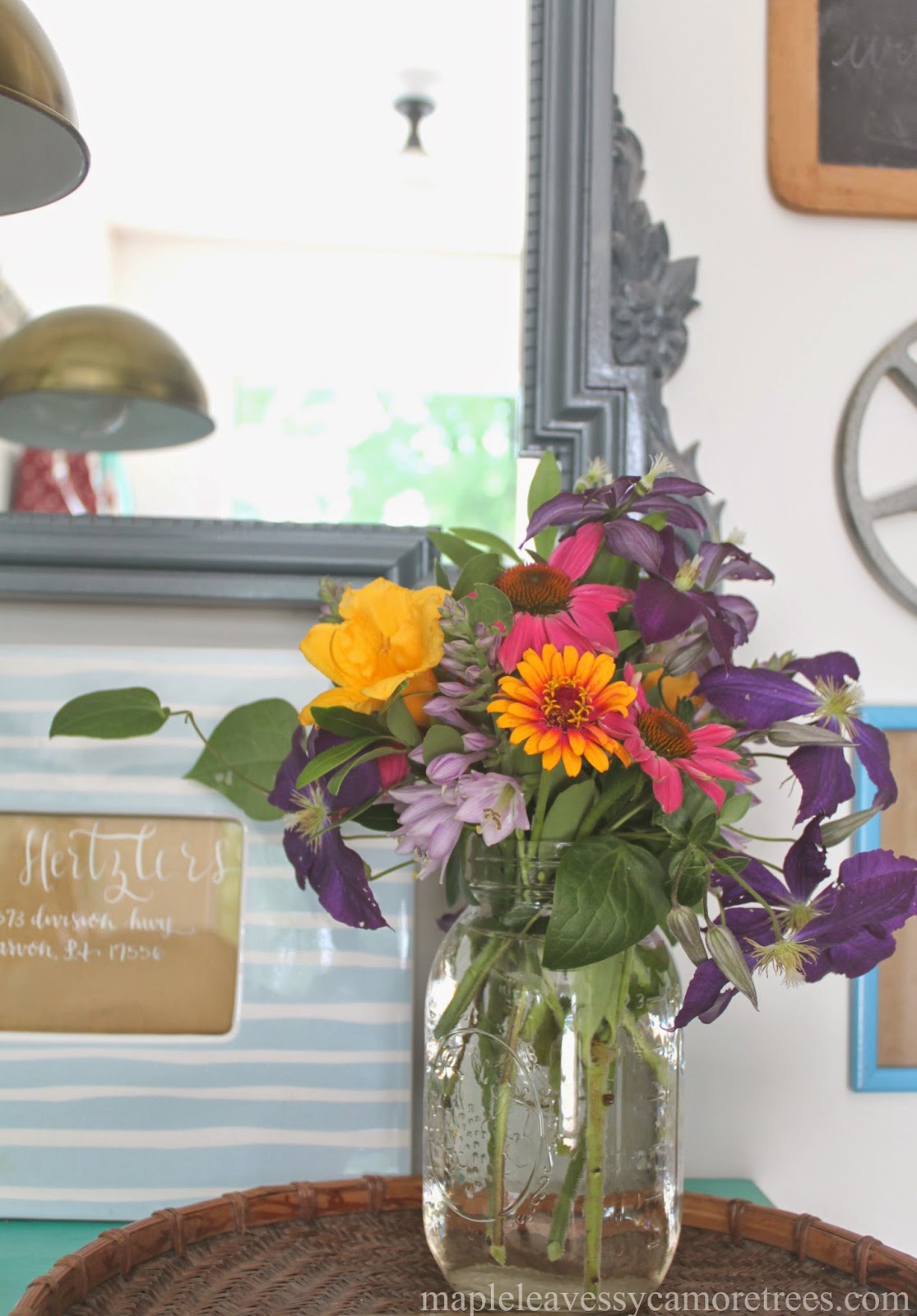 Okay, so getting back to the functionality of this space: here is one of our "storage areas." Of course having an entry means having a dumping ground for "stuff" somewhere. If you have a designated spot to dump stuff, the less visual clutter there is. I picked up this piece of driftwood a couple summers ago on Block Island. Mitch added the Pottery Barn number hooks to it and now we have a place for the boys to hang their hats. Or lanterns…cause you know how important it is to have a place for your lantern. Okay, whatever, so I styled up the place a tad for the photos;)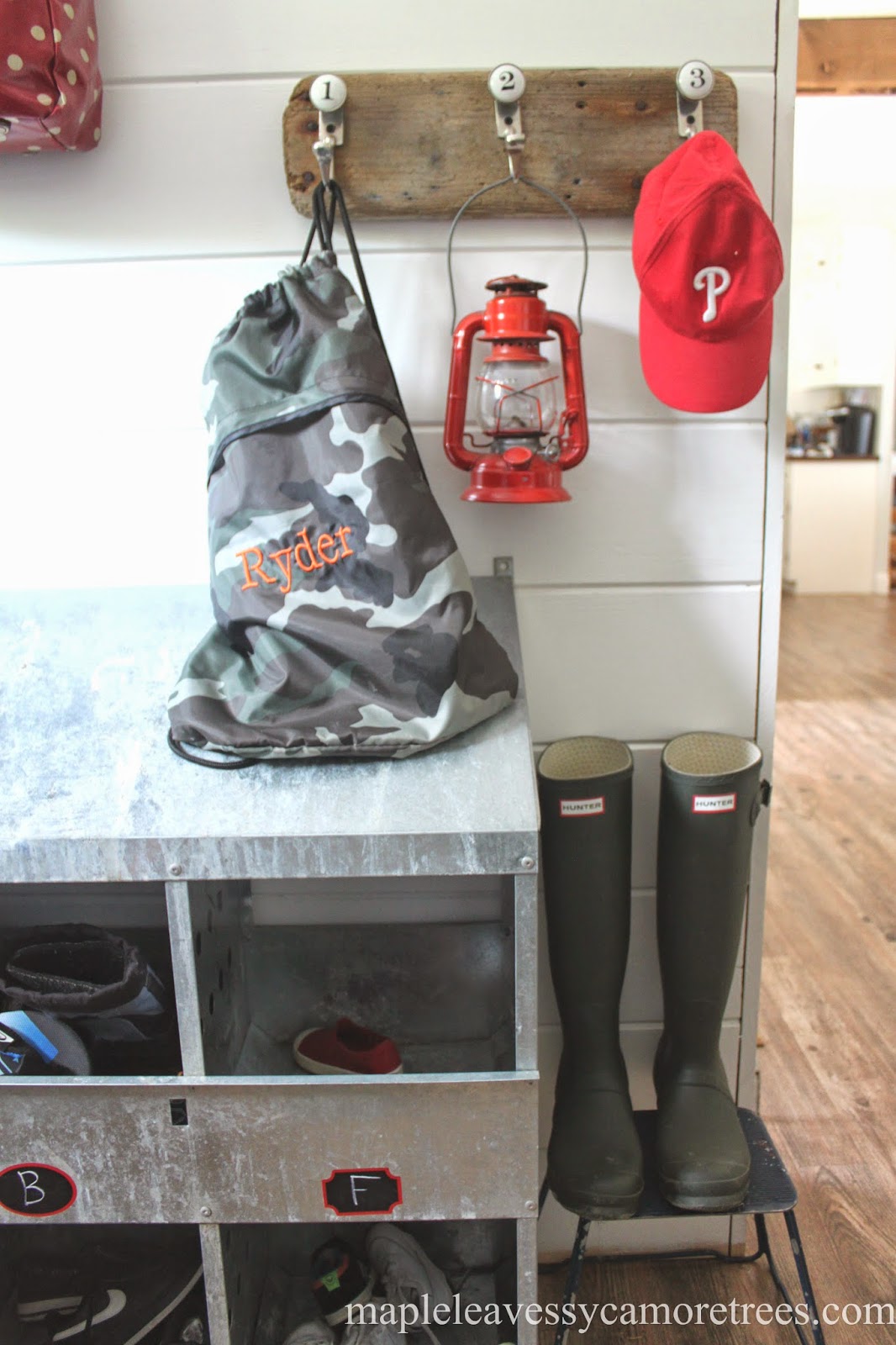 And this bigger coat rack Mitch made out of a cool piece of lumber that was on a pallet he took apart. As soon as I saw this weathered board, I knew I wanted to put it to good use. So we got some hooks from IKEA and Mitch attached them to the board. Love it.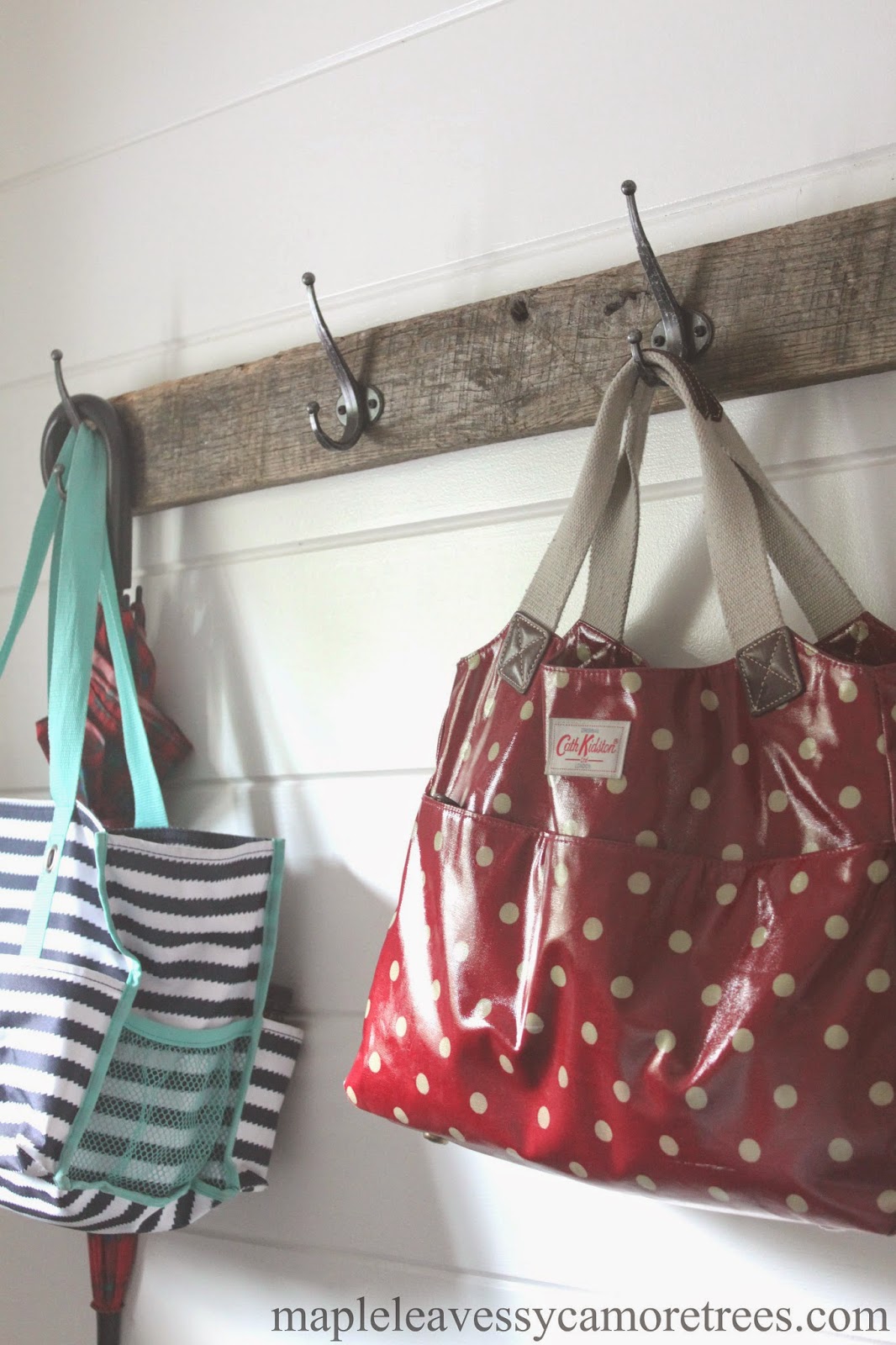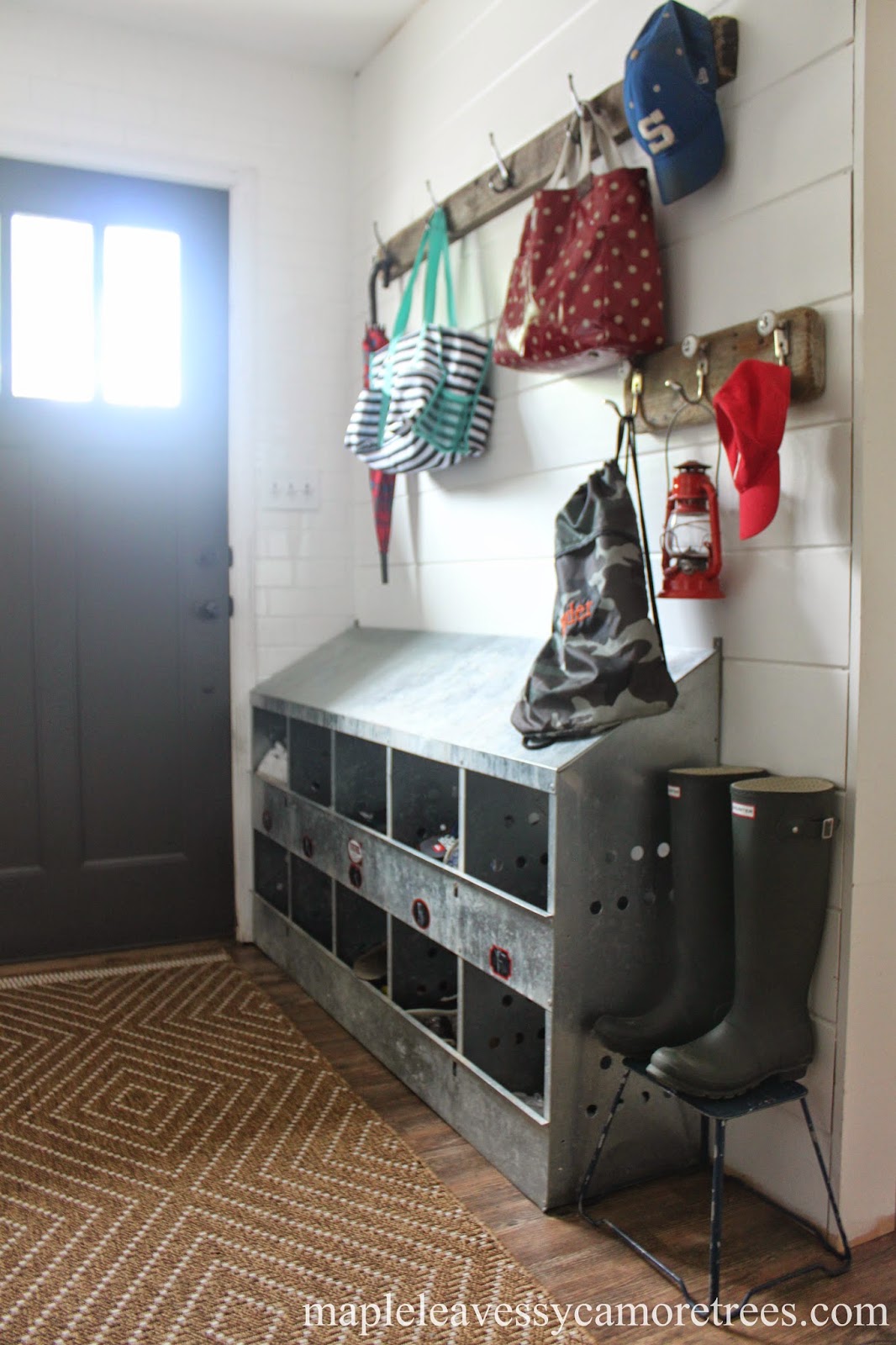 There's also one other key element on that side of the room: our chicken nesting boxes. I saw this puppy for sale alongside the road months ago, and knew I needed it. It was just too cool to pass up. And I knew exactly what I was going to use it for too: shoe storage. It's perfect. Prior to this, we had a small bench in this area that the boys never used to put on their shoes. And under the bench was a metal basket in which to throw shoes. Well the thing was always overflowing. So now, each person has his/her cubby where they can throw their shoes. It's perfect. I added some chalkboard sticker labels to the front of each one.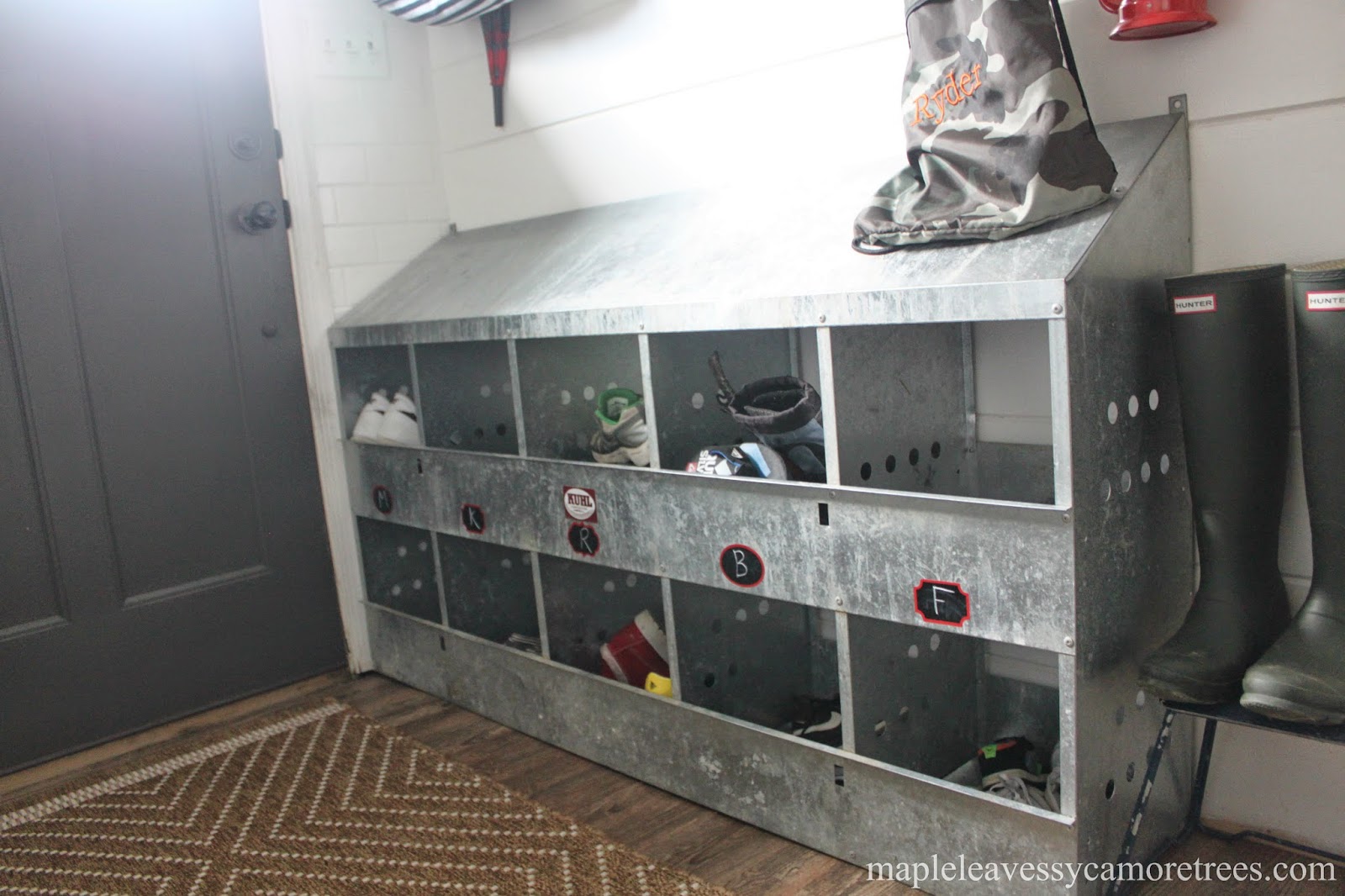 And it's the perfect size, as demonstrated by my model here. Now there's no excuse for the boys to not put their shoes away. (BTW, Finn is really good at putting shoes away now. He even knows which shoes go in which cubbies.)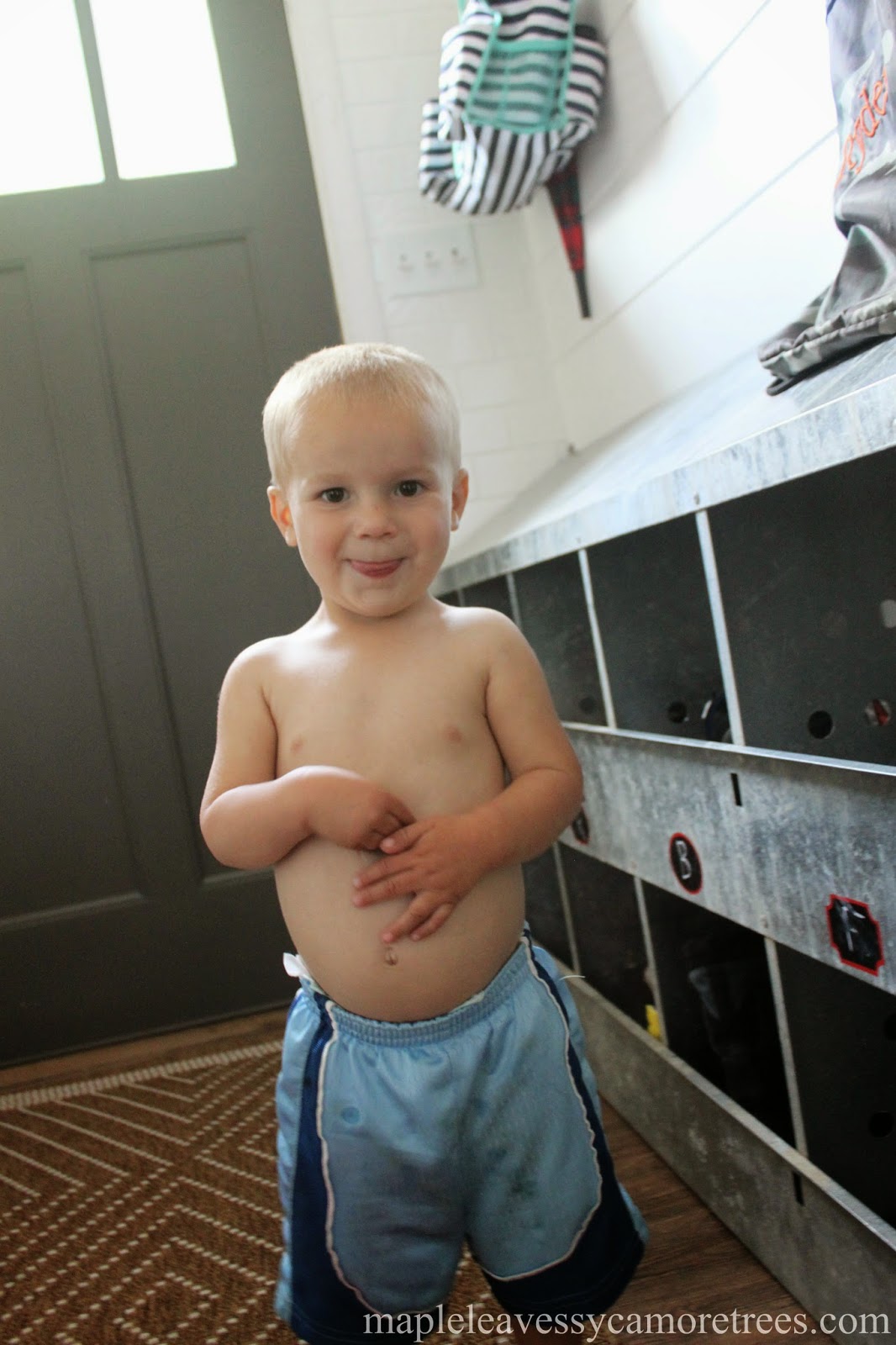 Now flipping over to the other side–the "laundry room" side. There's the closet that's filled with shelves, baskets, and all things storage. And the laundry sink, which is a necessity in this house. We have a little stool pulled up to it for the boys to wash their hands when they come in from outside. I've been known to bathe a kid or two in there as well. It's a workhorse, for sure. From washing hands, filling up buckets, to rinsing out paint brushes–this sink does it all. The light is from Pottery Barn and I scored it on major clearance at the Outlet years ago. Mitch got the green bench (which was previously used under the coat rack) for me for Christmas a couple years ago. It's now downstairs…I just used it here for staging purposes:)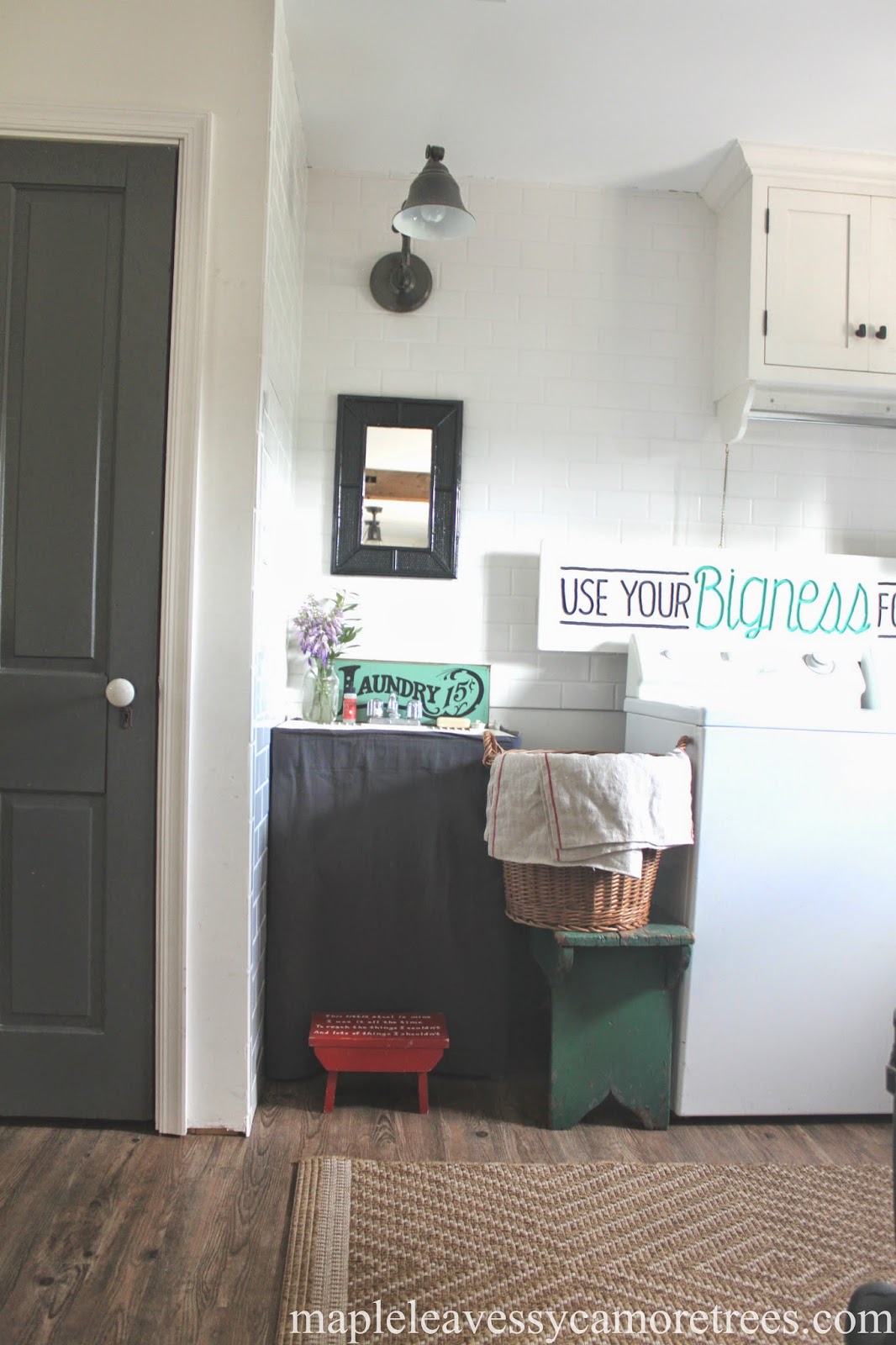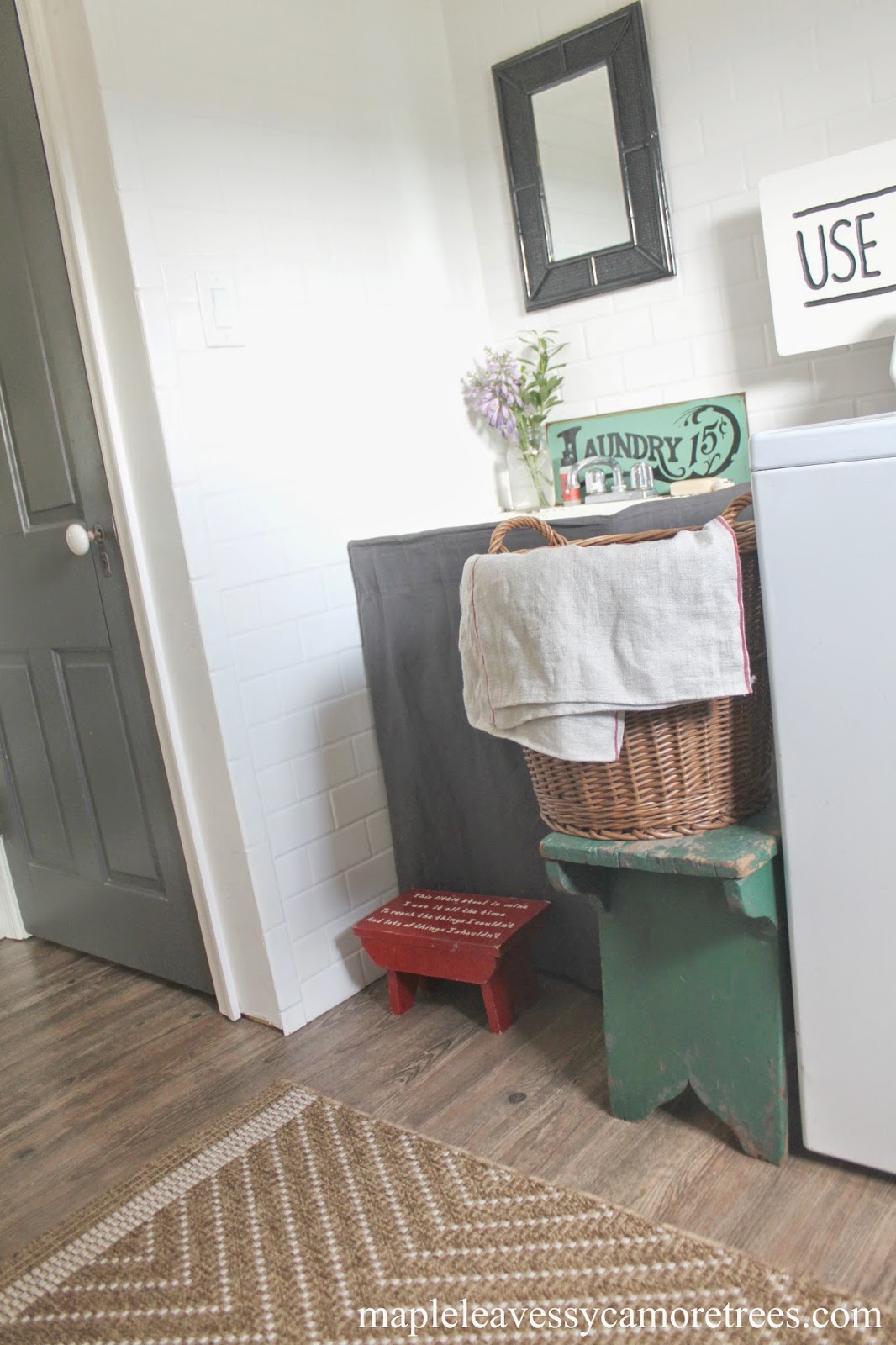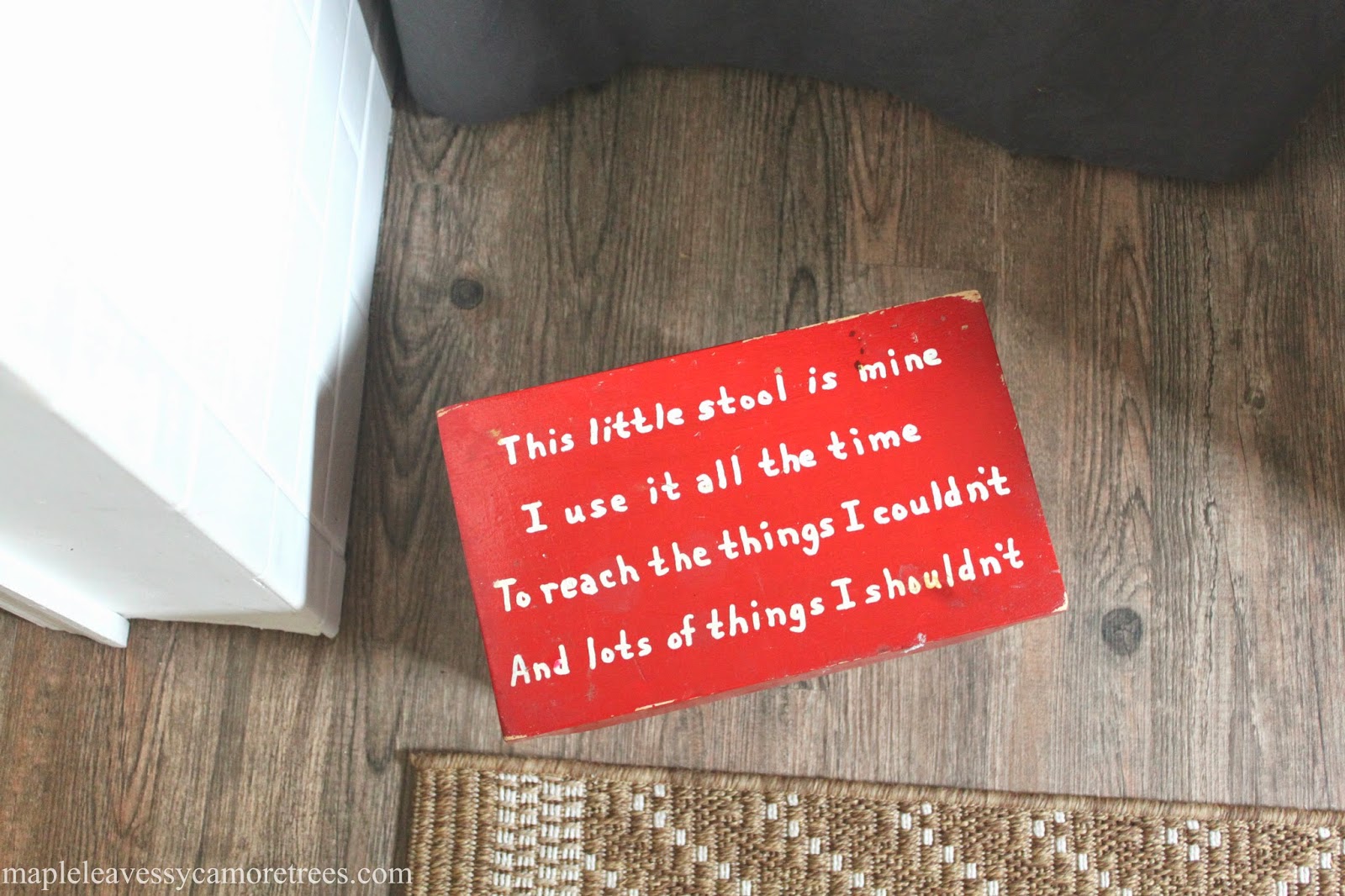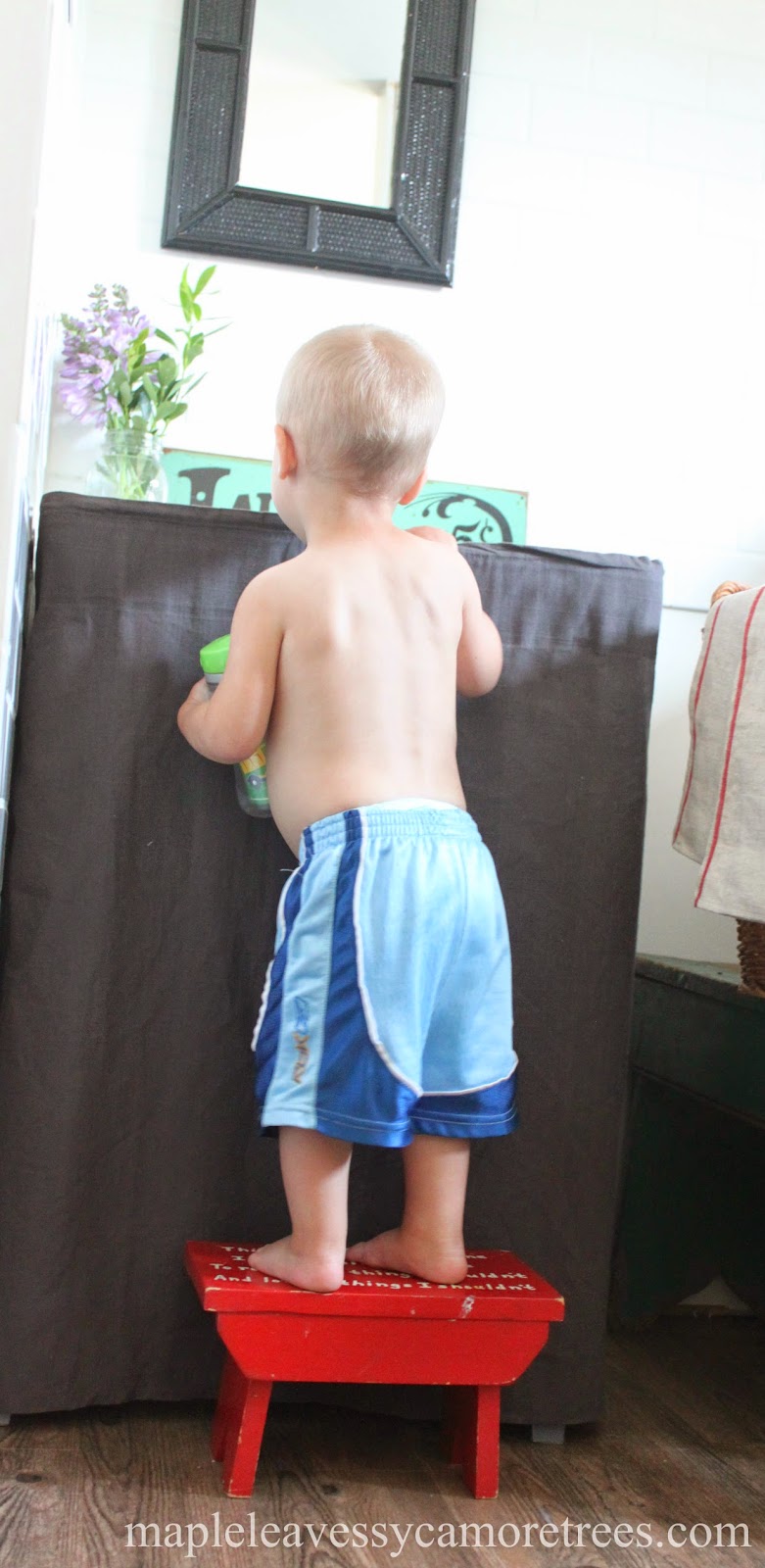 Now moving on to the washer/dryer situation. So…when you're designing a room in your house that's non-existent (remember–we came up with the layout and placement of everything in here), it's easy to overlook little details. But to me, the little details speak volumes. And we really failed when it came to the location of the washer/dryer plumbing & electrical–we put the hookups right in the middle of the wall. And all I could ever see when I looked over there were those darn things glaring back at me. I hated it. Let me show ya.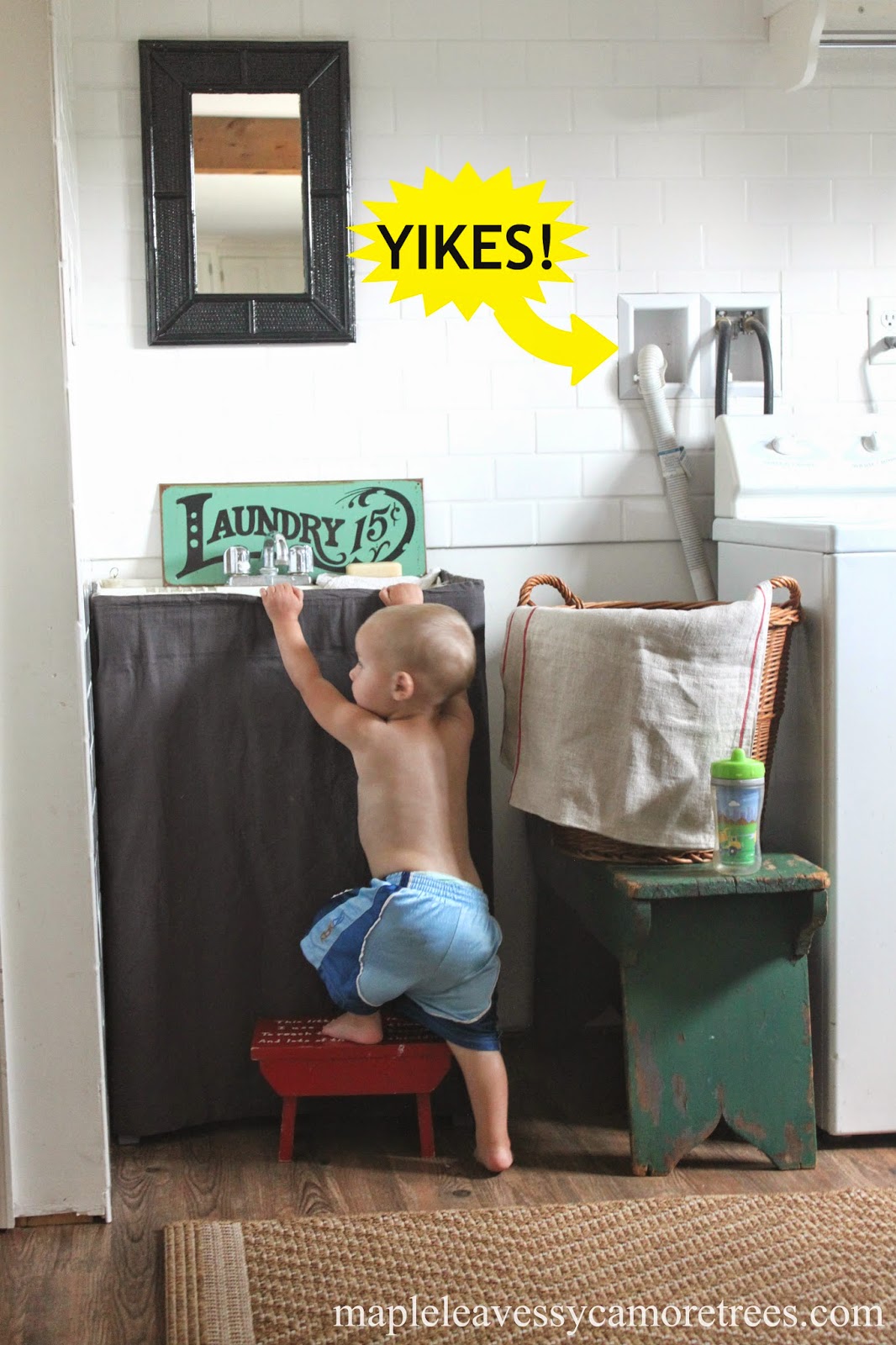 See? Not pretty. But it wasn't an option to relocate them since Mitch had already tiled that wall. So I thought and thought about what we could do to "hide" those eyesores. It had to be something that could be easily moved so we could access those pipes/chords…so we made a sign.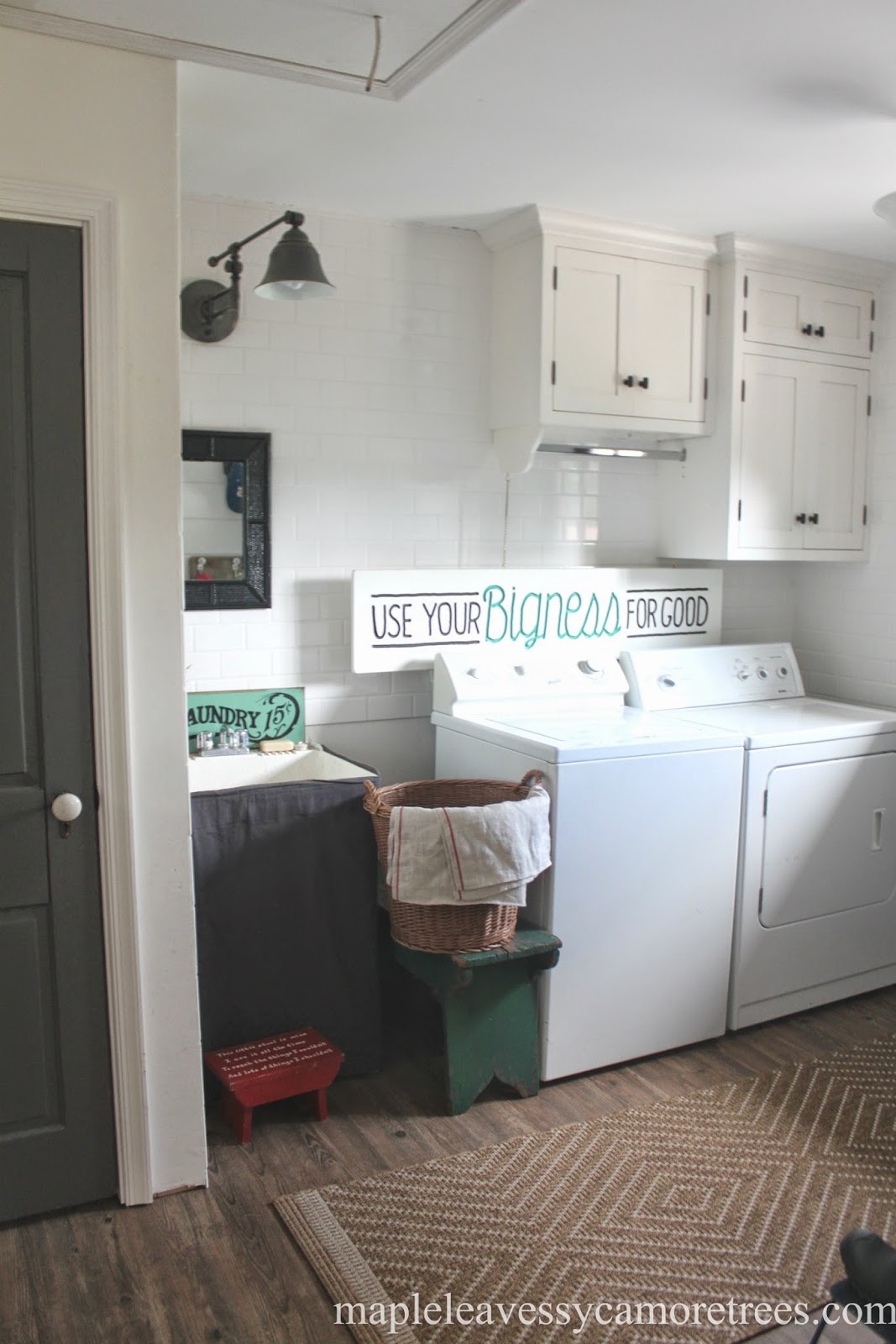 Let me tell you the story about this here sign. One day a couple months ago, I overheard Mitch talking to Ryder about bullies at school. And he went on to say, "Don't worry, Ryder, someday you'll be much bigger than those kids." (side note: Mitch is 6'11" for those who don't know, so my boys are going to be BIG boys) He went on to tell Ryder that even though he will be bigger than the other kids, he needs to treat people kindly and be like Jesus to them. He said,
"Use your bigness for good."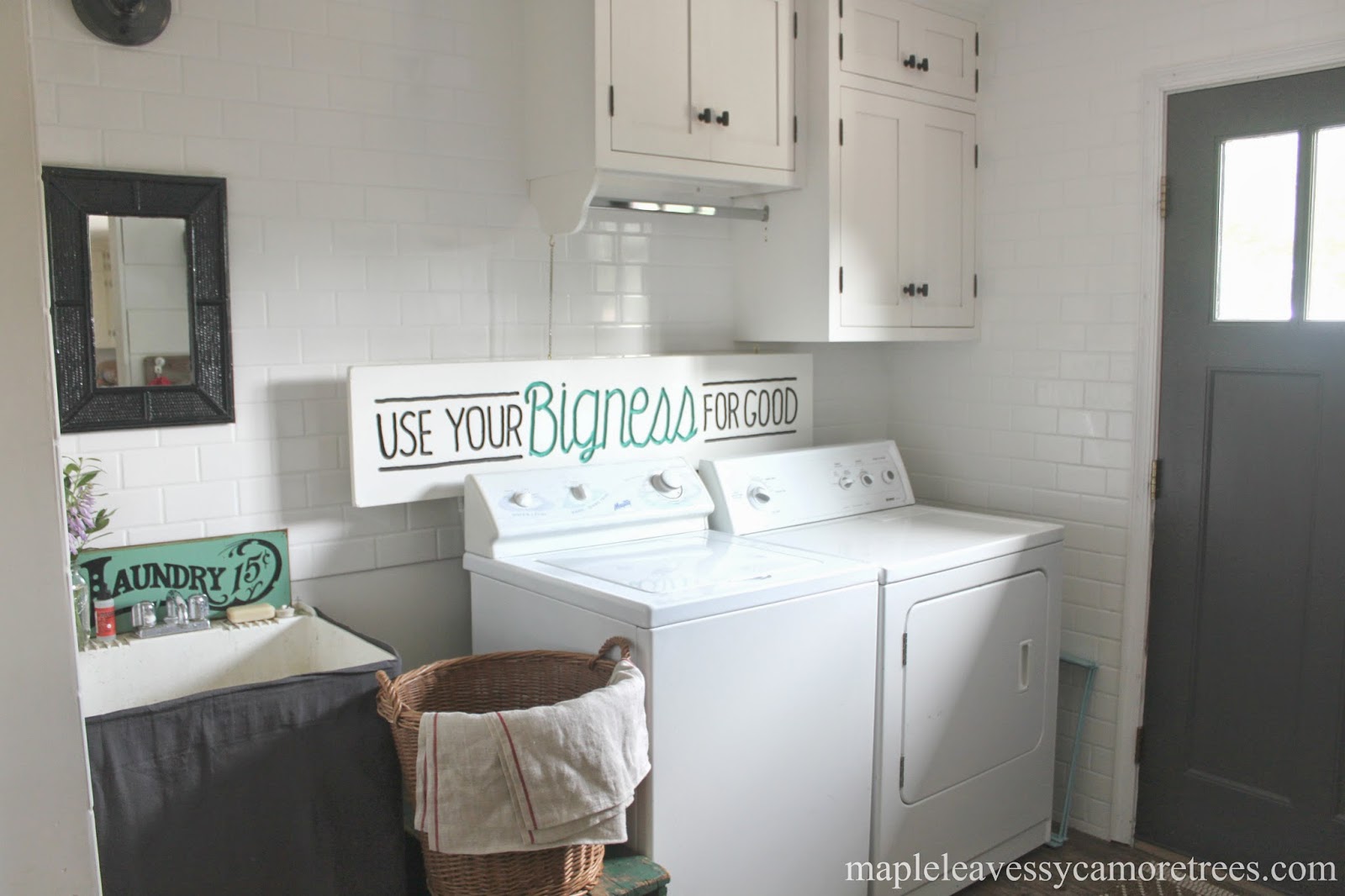 I thought it was great advice and told Mitch later that I'd love to make a sign with those words on it. It's a great reminder to us all as we're walking out the door–be kind to those around you, stand up for what's right, use your bigness for good.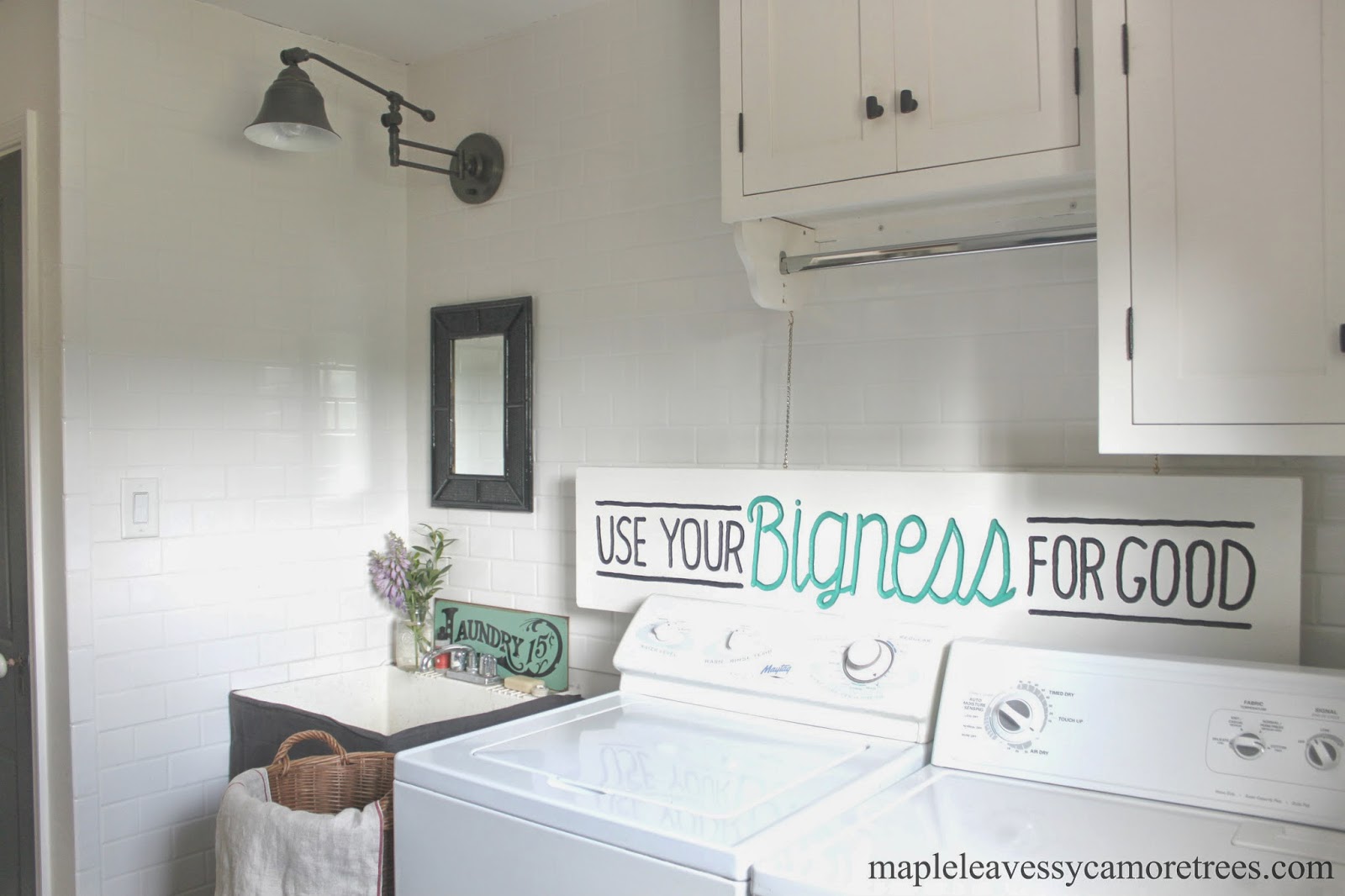 And really I think it's a great lesson for anyone–use whatever your strength is, for good. Girls, use your beauty for good. Are you an Einstein? Then use your smarts for good. Artistic? Use that for good by painting something beautiful (as opposed to something evil). Are you a kick-butt baker? Bake something for someone who is lonely, sad, or new to the area. Use your butter, sugar, and eggs for good! Even things that could be a weakness–like anger–use it for good by being passionate about an injustice or wrong. So what's your fill-in-the-blank? Make a sign to remind yourself to use it for good!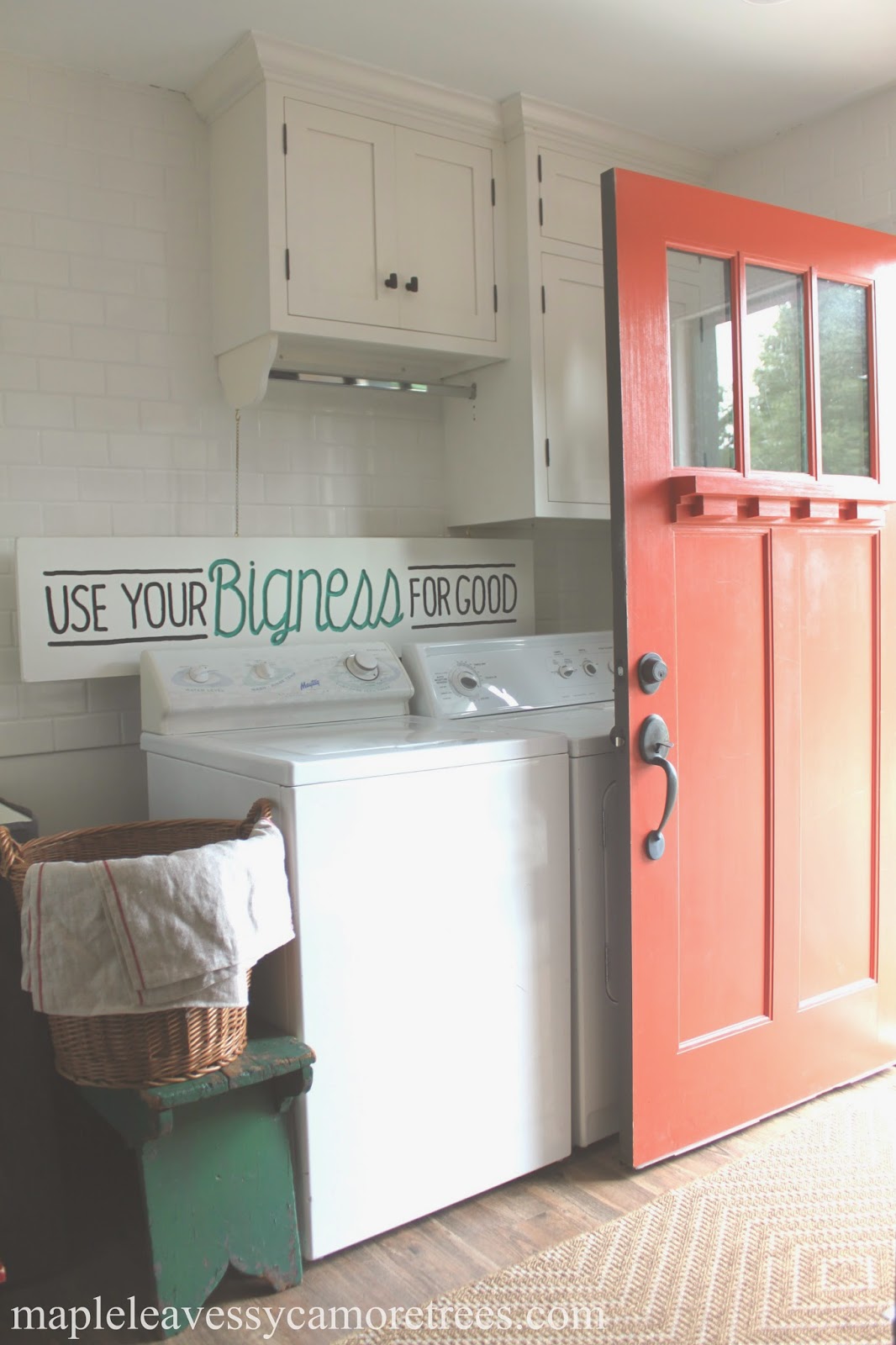 Okay, my mini sermon is over:)
This is the view from our dining area (which is also open to the kitchen). It's my view most of the day.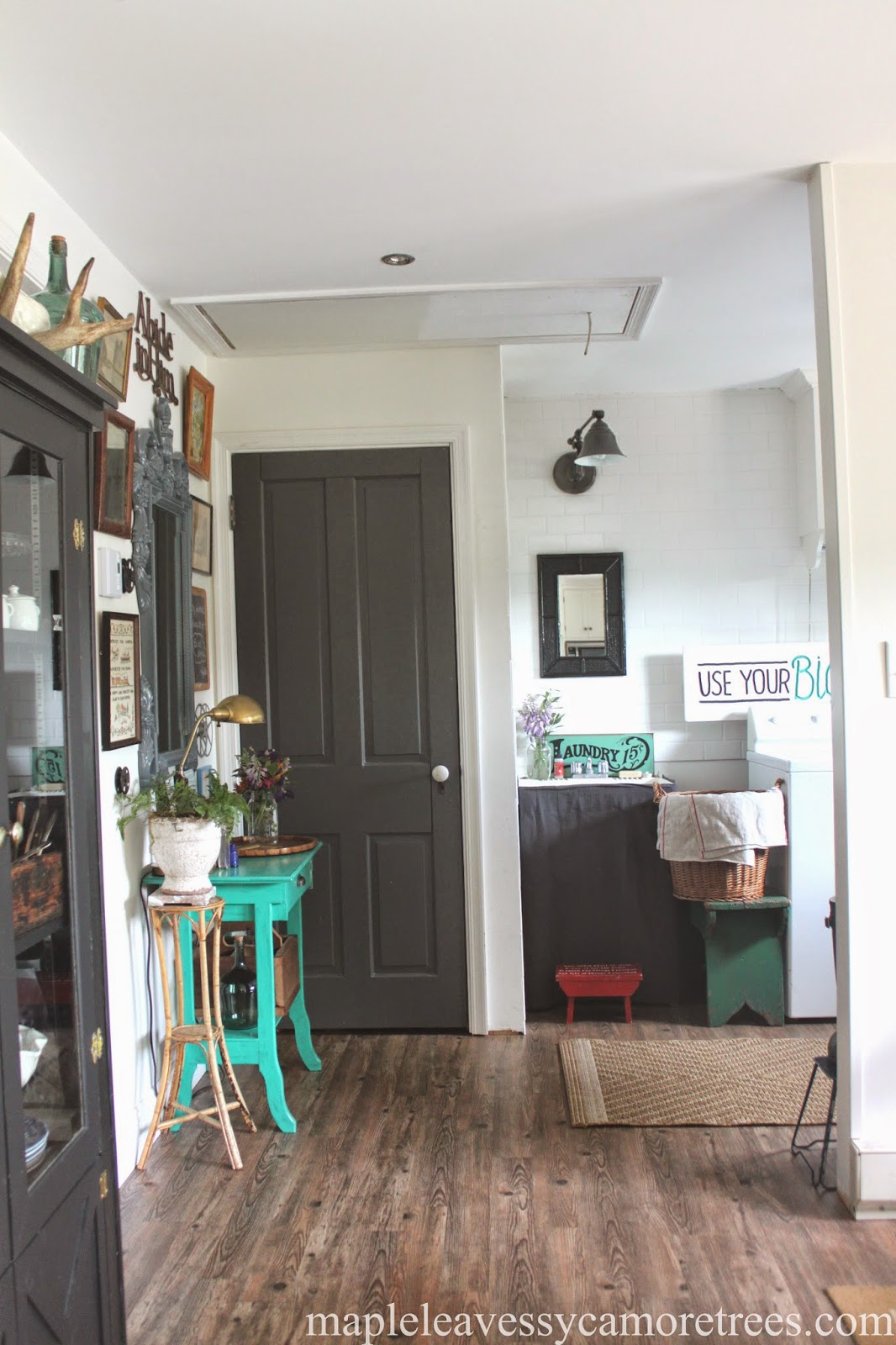 And that's about it, folks! Thanks for coming along on the tour of our mudroom. Hope you enjoyed it.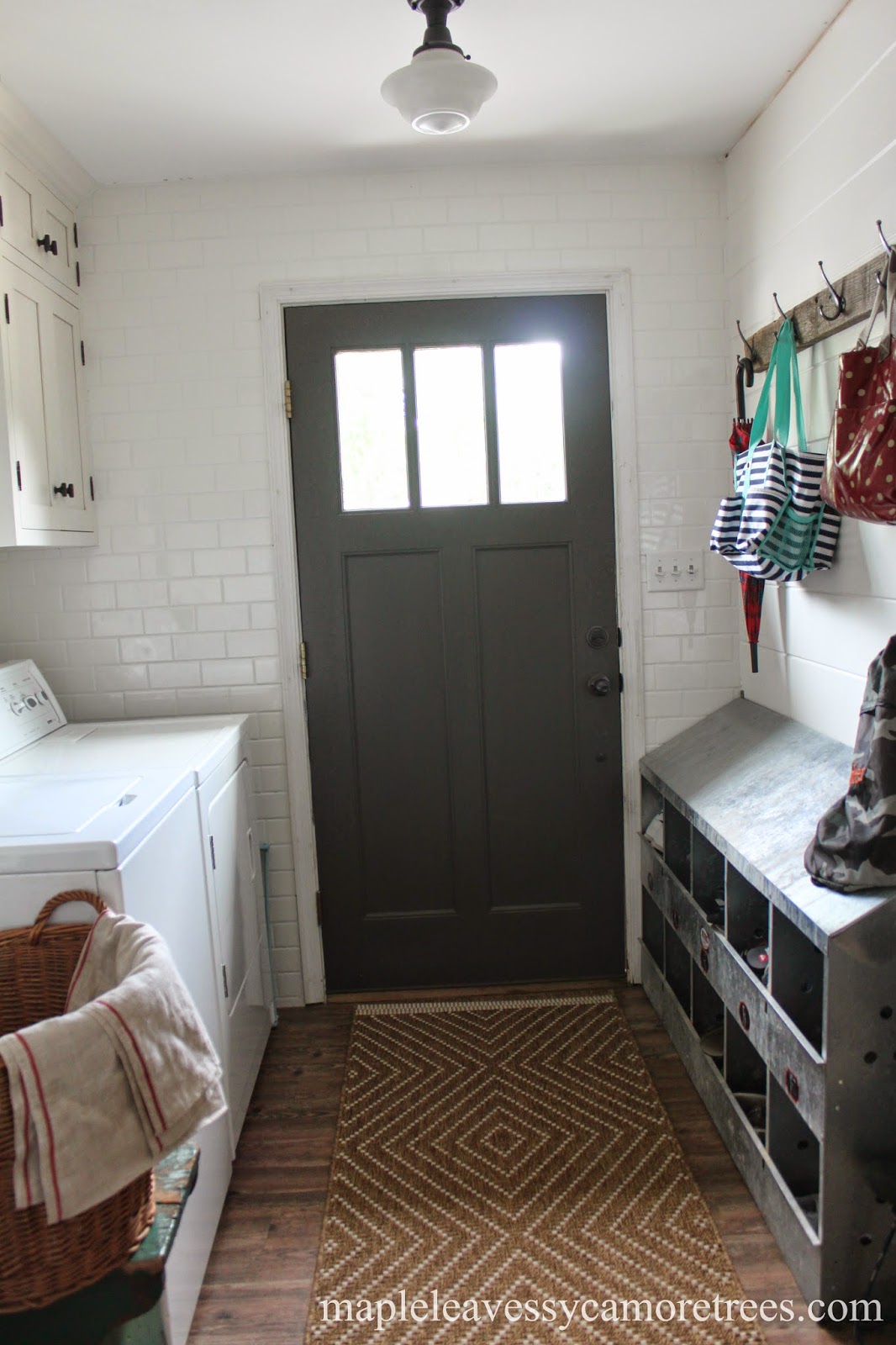 Inside of door painted Benjamin Moore Dragon's Breath.
Runner from Crate&Barrel (it's currently on sale now!)
Update on mudroom, go here