So here's a good before and after for ya.
Before: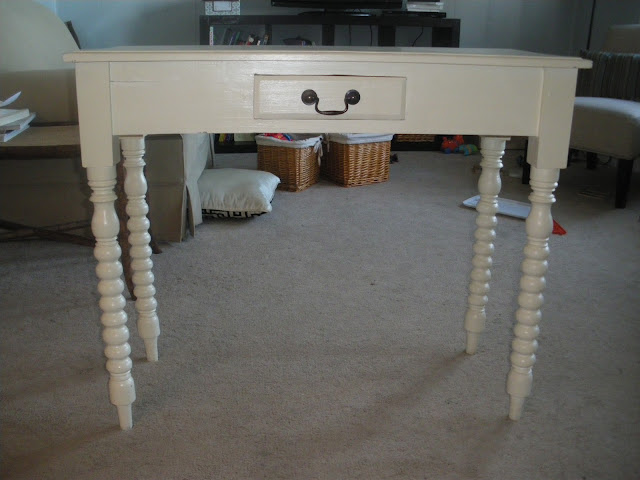 I got this table several months ago at Goodwill for $10. The legs are what sold me on it. Aren't they the cutest? But when I got it home I noticed this: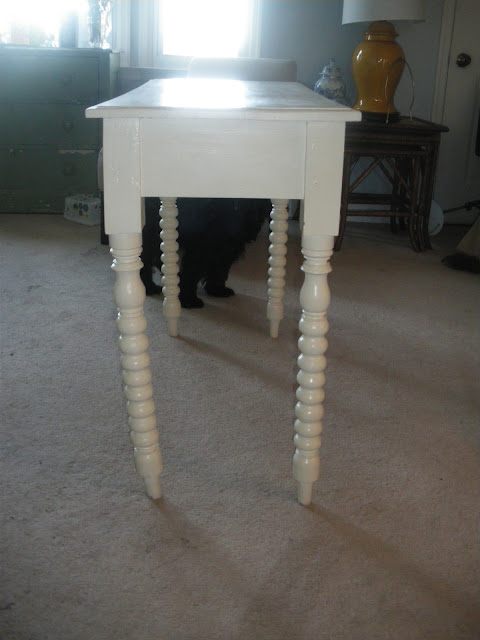 Did ya see it? Someone was drinking a little too much while making this table. That back leg is jacked! I still thought it was cute in all its quirkiness and was going to use it in my house but there was one problem…I didn't have a place for it. What we really needed was an ottoman. This table was the perfect size so why not turn it into one? So then it went from looking like this: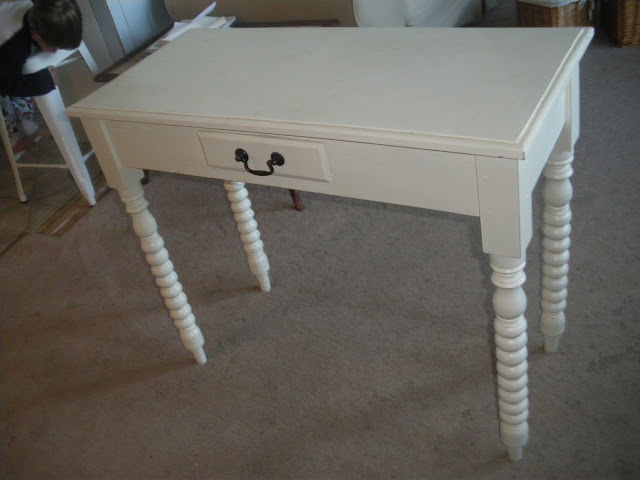 To this: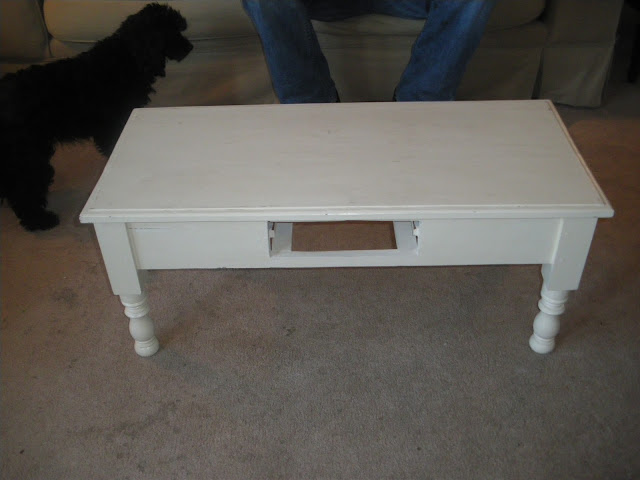 Mitch just cut off the legs and made a mini-me.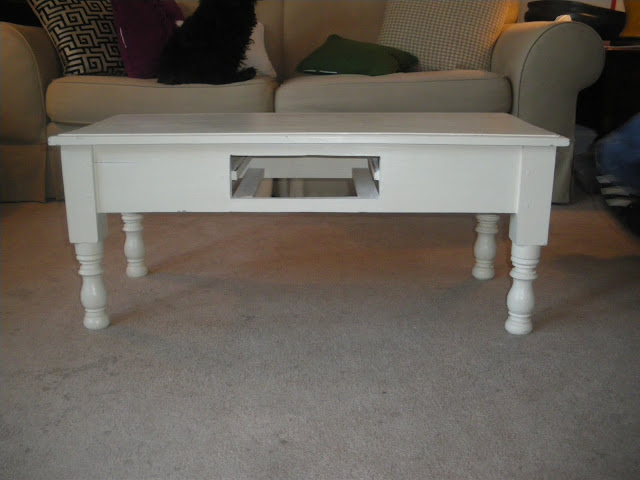 And here's a free shot of Ry for ya just for good measure.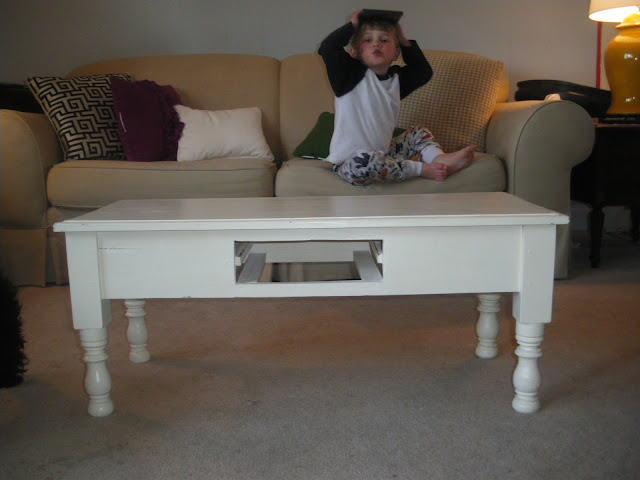 Okay, two.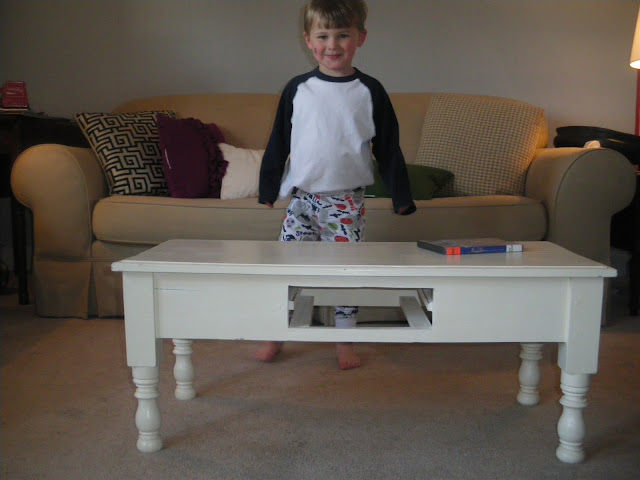 When I bought this table, I was seeing it in a glossy black so outside I took it and sprayed those cute little legs.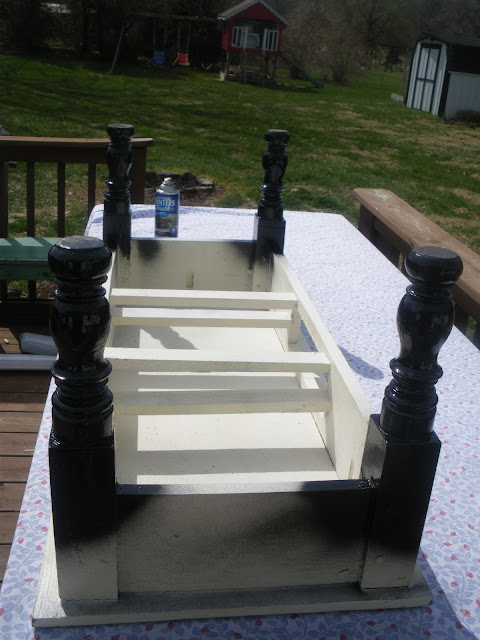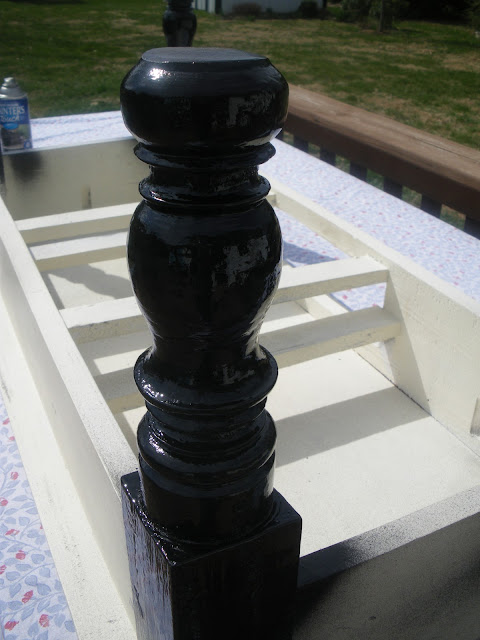 With this:
I love the new shiny black paint. It just updates the whole piece. The next step was preparing the foam. A few weeks ago we burned (yeah, I said burned) our former couch. (You can do that in the country. Well…I think you can…) It was old and needed to go, so Mitch dragged it to our neighbor's firepit and lit it up. But before he burned it, I removed the cushions to save for this project. So glad I did. You know how stinkin' expensive foam is? Okay, it's not THAT horrible but we're cheapies and would rather save our moolah for say…dinner and a movie. But this foam is some thick stuff. Check it out.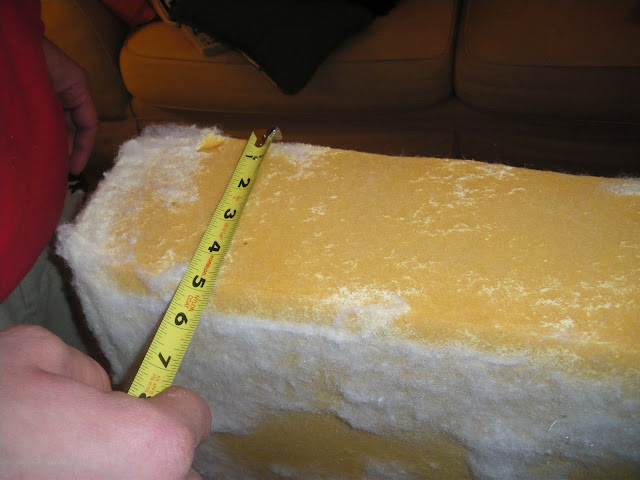 So ghetto me decides to cut it in half. Yeah, the kind of half that's impossible to cut straight. Unless you're Martha, that is. So we marked it all out and tried our darnest to cut straight.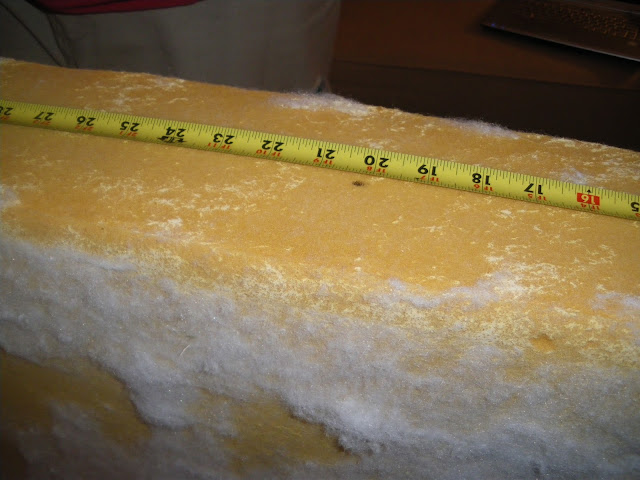 With a bread knife.
Then an electric bread knife.
Power tools, baby! That's my father-in-law graciously holding the foam while I zip through it with the knife.
Then we sprayed the top with spray adhesive and laid the foam on top. It laid pretty evenly after we stuck a little chunk of foam in a spot that I totally botched with the knife. (I failed you, Martha!)
The foam wasn't big enough to cover the entire top so I cut an extra piece and stuffed the crevice with batting. Problem solved.
Covering it with batting.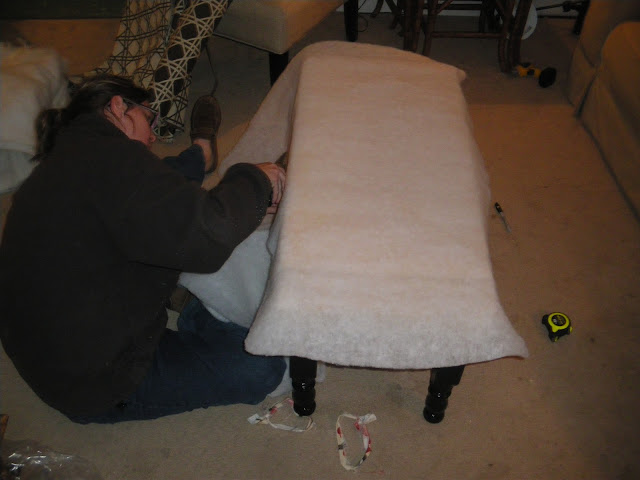 Next, Mitch had cut some scrap from a pallet to size and I covered it in batting.
The pain about this project was that we had to line up our fabric perfectly (since it was a geometric pattern) but the table itself wasn't perfect. Remember drunk-o who made it? Well yeah, all the sides were different measurements and nothing was straight. So the finished product isn't perfect but we love it. And seriously how cool is it to tell your friends that you made your own ottoman? I'd take that any day over going out and spending a couple hundred dollars on one. Well that, and I don't have a couple hundred lyin' around.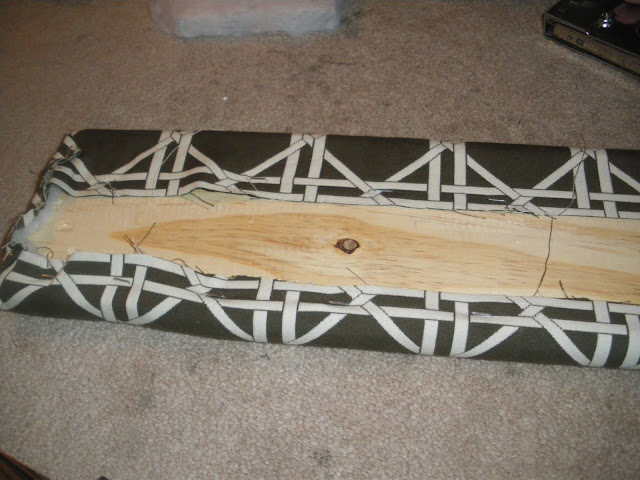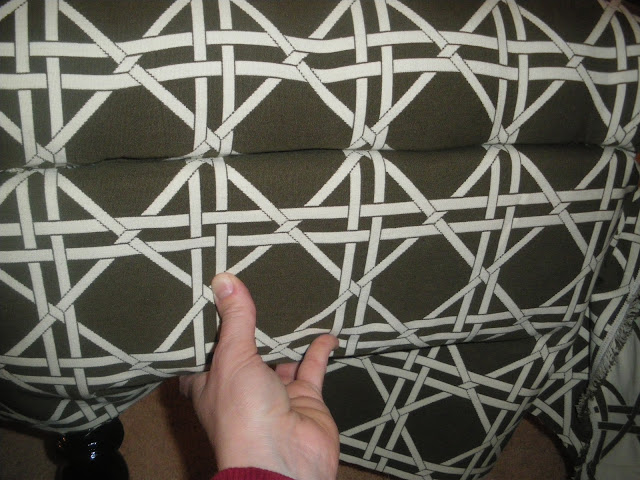 Mitch attached the sides with screws.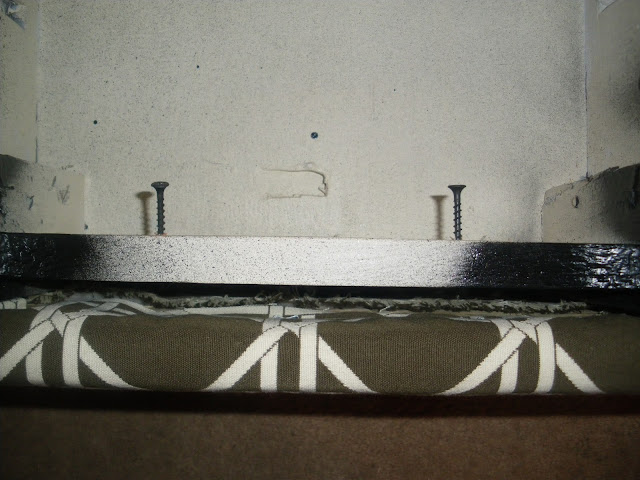 And here's Mitch again adding the nailhead trim which was a super tedious job. Thank goodness for Mitchell cause I don't have patience for stuff like that. His poor thumb is literally black and blue. He had to press the nailheads in before hammering. There's no way I could have done this project without his help. He did all the annoying parts. Thanks, Mitch!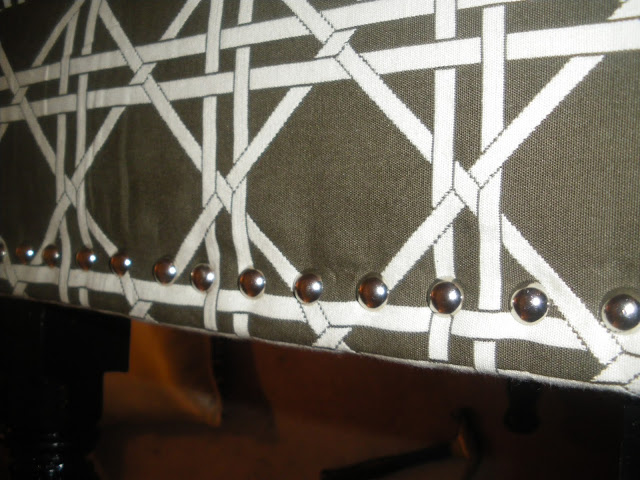 Tufting part = pain in my ain. Actually it wasn't too bad when there were two of us working on it. We finished it last night. I tried the night before by myself but just got frustrated. This is definitely a two person job.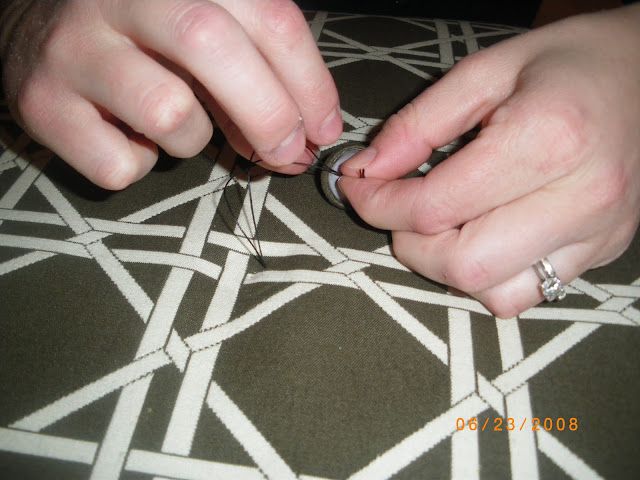 After Mitch pushed the tufted part down, I attached a button on the underside of the table to keep the thread from going through. Easy solution that works well.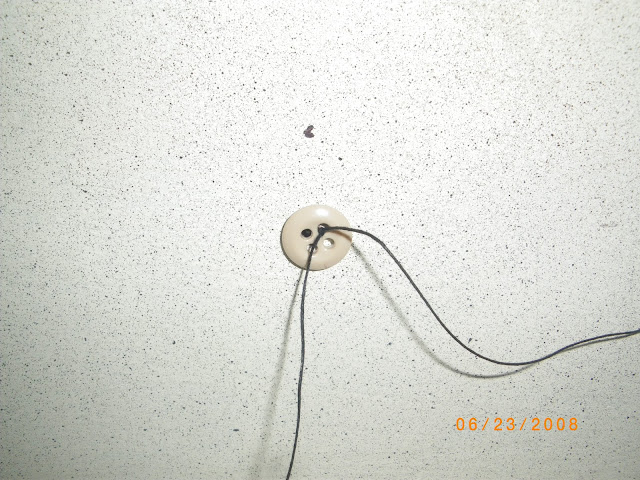 And here she is–the finished product! We love it. Perfect scale for our little living room, complete with nailhead trim and tufting. (Ignore the date on these pictures. I did something on my camera. No idea what.)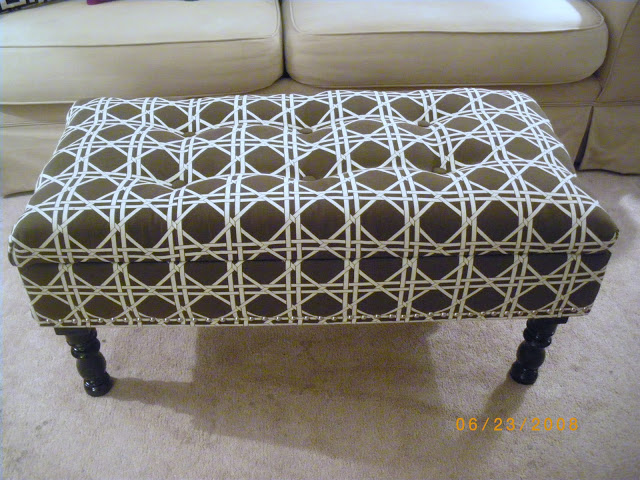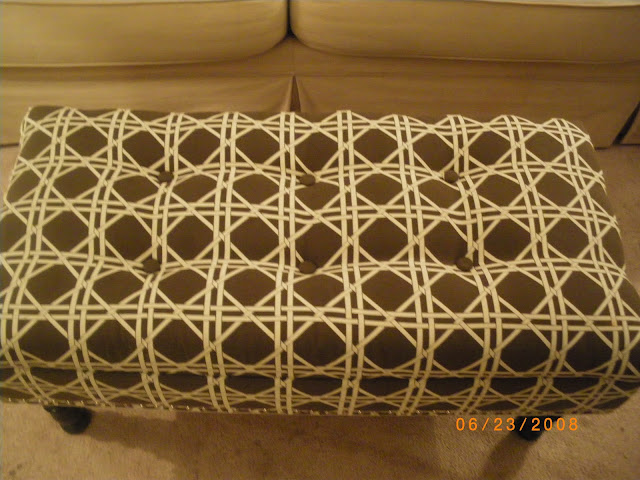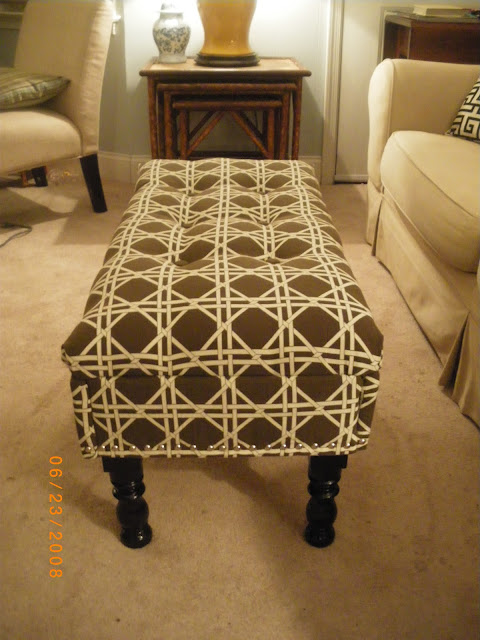 Again, here's the before and after: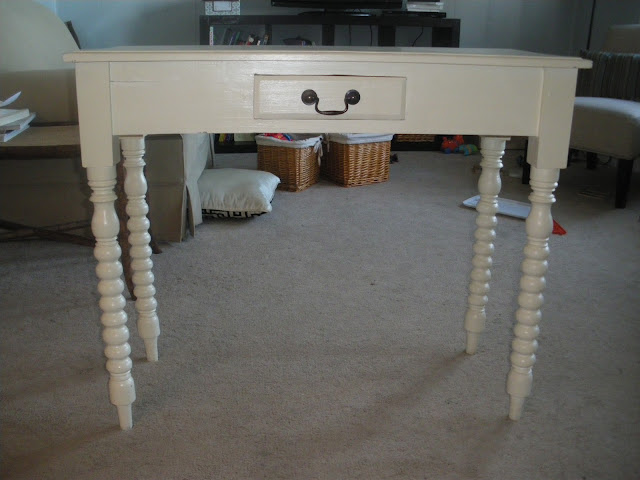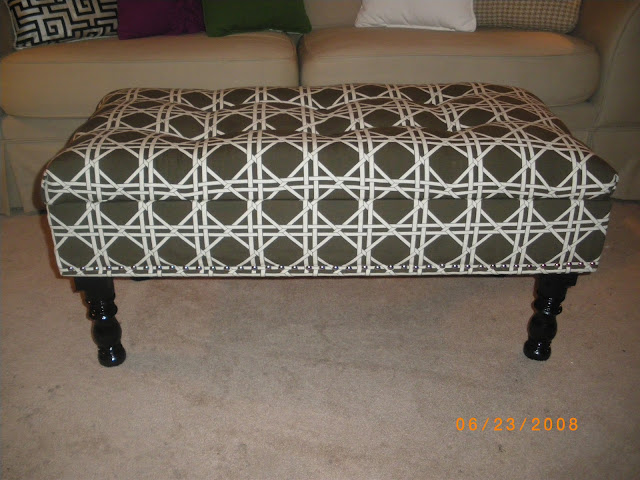 We figured it took us about three hours a night to work on this and we worked on it for three nights. Of course we're no pros, and wanted to do the best job we could so it probably took us longer than it had to. We're really happy with the results and now we can enjoy the fruit of our labor!
*Check out an update on the tufting here.